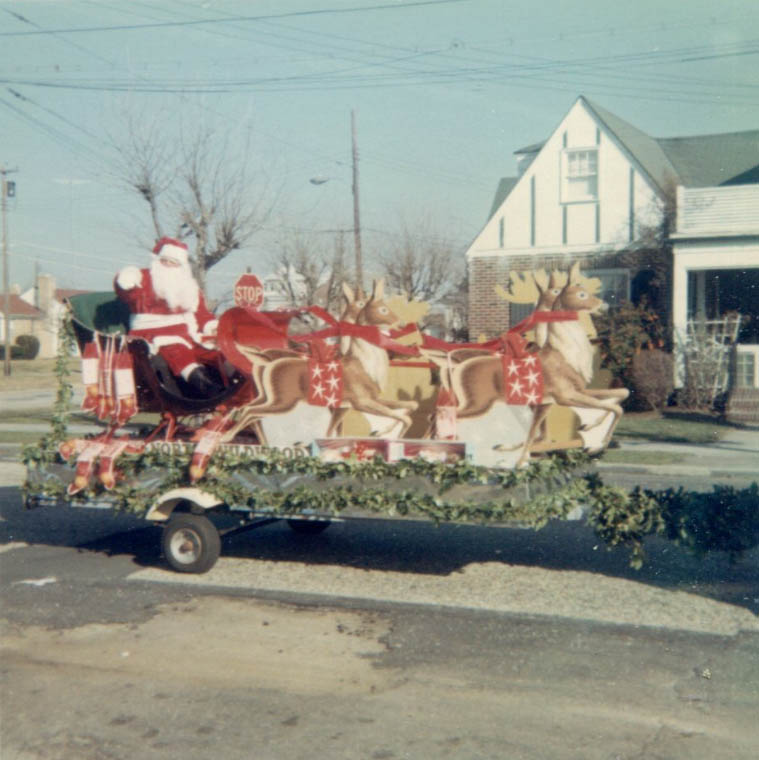 by Anne Vinci including memoirs of Inge Friesenborg
It was a VERY hot summer, on this we can agree, but the fall was delightful. Some of my friends and family enjoyed the beach and ocean into the middle of October this year. As the weather temps lowered, and the leaves turned color, I couldn't help thinking of years gone by and the activities that prevailed here on our island. I was in touch with a few high school friends and asked them to share some memories of our youth here in the Wildwoods. For the most part we all remembered the 'Seasiders', a high school girls' civic organization that distributed food baskets to the needy, and Pacific Avenue coming to life with decorations and lights. There was a bus decorated for Christmas, parked on the corner of Wildwood and Pacific Avenues (just outside of the Marine Bank) and Santa would be seated inside to wait for the children to come in and make their special requests. Many of the storefronts were decorated with Christmas scenes painted by the Wildwood High School students. We all remembered the visits by Santa on fire trucks to hand out toys, and stockings filled with fruit, candy and nuts.
However, there was one special letter written by Inge Friesenborg Laine (WHS, 1957). She wrote about Christmas in her home with a strong German background and her family members. I enjoyed it so much, I felt it should be shared. She first mentioned the Wildwood High School Christmas Dance. "It was a thrill to think of going and dancing to an 'orchestra' with your boyfriend. Dressing up in a semi-formal cocktail dress, with all the trimmings, was so grown-up.
"Our home was at 131 East Wisteria Road in Wildwood Crest. Our family, Dad, Mom, Irma, my sister, Siebo, my brother, and I, celebrated Christmas Eve a little differently than most others. Our first inkling of Christmas came early in December when Mom or Dad bought the bushel of fresh kale from Menz's, the wholesale foods vendor. It was thoroughly washed in our deep sink, blanched in boiling water and then roughly cut, bagged and put into the freezer. The heavy duty cleaning then commenced. We couldn't put the lighted chenille window wreaths up on dirty windows. This also included a hunt for enough extension cords and replacement bulbs for the lights. They never all worked perfectly the first try.
"Dad had come from the part of Germany that was on the Dutch border. In many countries the customs stray over the border. All through Advent we would put one of our shoes on the window sill each night. "Sinter Klaus" checked on us and put a treat or a coin in there. If we had been bad, the shoe was empty. How that idea came to be was a mystery.
"One night after I was asleep, he came. There he was in his red suit. He asked Irma and I if we were being good. Of course we said yes. Then he walked to our shoes and put in the treat. He told us to help our mother. Dumfounded! If I ever had doubts about Santa, they were now gone forever. He was REAL! (Years later I finally figured out that it had been David Sollenberger, Sr. who lived across the street, who had visited us.)
"The week before Christmas was a lot more cleaning and baking. We were allowed to help Santa by putting our tree up on December 23. The next day, the 24tth, began the real cooking. First the big dining room table was decked with the white damask tablecloth. We had polished the silver candlesticks and put in the tall, bayberry tapers which were then lit. Then the big pressure cooker pot was put on the stove and was filled with that kale slow cooked with some onion, homemade pork broth and plenty of good German smoked meats plus a hunk of fresh pork. When you walked into the house, the aroma said CHRISTMAS. Lovely, fluffy, buttery mashed potatoes accompanied the kale. Dessert was always 'Spanish Cream' and some of those delicious, crispy cookies we had made.
"In no time we finished the meal and were off in the '39 Buick with Dad to look at the decorative lights on homes all over the island of Wildwood. Pacific Avenue was strung with rainbow lights all across the street for blocks and blocks. We kept an eye on the skies for Santa while we were at it. Dad thought he saw him and maybe we should get home and see if he got to our house yet.
"Yes. He had come. The floor below that tinseled and ornamented tree, was loaded with gifts of all kinds; the ones we asked for plus a lot more. It was Christmas!
"As I got older another tradition was added, singing in the church 'Junior' choir. We had to be able to sing in 'parts' and be 13 years old. Our congregation had a midnight, candlelight service. The climax was always singing 'Silent Night' and lighting our individual candle while facing the whole congregation. The building just glowed. This was followed by 12 chimes from the organ as we reached midnight. I'm still in the choir and get 'the shivers' thinking of those special moments. Merry Christmas and Peace on Earth to All!"
I thought this story, in one young girl's life, was very moving and I thank my dear friend Inge Friesenborg Laine for taking the time to share it with us.
Activities continue at the Wildwood Historical Society, according to President Kathy Skouras. The museum partnered with Wildwood High School and shared a hundred pictures for their slideshow at the centennial gala held on October 15. They also provided some school artifacts, a band uniform, school sweater and team jacket that were on display. A Medical Display has been created at the museum about Wildwood's doctors, hospital, maternity home, sanatorium, including a new donation from Donna Lackman from her grandfather's pharmaceutical paraphernalia.
The museum is getting a facelift by way of new lighting and ceiling tiles in various rooms. This should brighten things up considerably. We will also be participating in the Partners in Preservation Holiday Tour on December 2. A new set of engraved bricks was received and should be installed very soon. We are still receiving donations toward the Leader Newspaper scanning project. The next set of newspaper books will be sent out very shortly. We also received a Boardwalk Red Skelton pop-up clown from Cindy and Walter Florimont. During the summer months, the museum plays host to a variety of visitors. We had researchers, several family genealogists, local newspaper columnists, authors and school children.
Keep in mind the museum is officially closed for the winter season. However, if you are in need of any assistance, or research material, call the museum at 609-523-0277. Leave a message, and someone will get back to you. In closing, keep in mind, "Life is short. Go for it! Dance with fairies, ride a unicorn, swim with mermaids, chase rainbows."
Until next time . . . . . be happy and be well!