BY SIMONNE BARRY-SOULIERE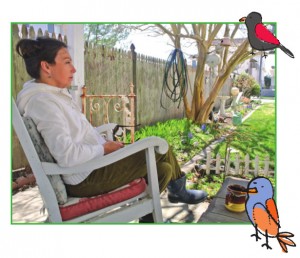 Have you paused to notice how life surprises you with intangible gifts if you stay open to it? Before the sun rises on an unseasonably warm mid-March morning, the sound of birds piercing from my kitchen windows draws me outdoors. After too many foggy days in a row I welcome the change. Coffee in hand, I gently rock on an old but sturdy, white wooden rocking chair on the ground level front porch of my 1920's cottage. This South Jersey beach town, barely waking up, lets me quietly hear the birds singing near and far. It is clearly Spring time.
In the midst of the beauty on this bright morning, emotions suddenly overshadow me and threaten to take this moment away. With many responsibilities awaiting me, I dread the end of my favorite time of day, but remind myself to live in the present. As I settle in my seat, my senses heighten and I notice the subtle scent of purple Easter lilies that have just bloomed a few feet away. I remember planting them at least six or seven years ago.
A pair of cardinals arrives for a brief moment. The red beauties crack sunflowers seeds fallen from the feeder that hangs from a low branch of the bare Crepe Myrtle tree. A tree planted some sixty years ago by a woman that once cherished this vintage summer cottage. The cluster of about eight slender stems that peeled during the Fall has left a smooth, slippery mottled appearance that intrigues both my sense of sight and touch. As I watch the pair, I notice droplets of water resting on the end of each blade of grass, which glisten like small crystals.
I am careful not to make any noises that would scare away a dozen, local old world Sparrows and one red headed house Finch that take turns flying to the round feeder in front of me. The weight of the birds coming and going cause it to sway from side to side. As they crack seeds, it causes a splatter down below so more birds can feast at once. By summer, some of these scattered seeds will turn into tall majestic multi headed sunflowers high above the wooden fence that shields the garden from misty ocean air and gusty winds. When the Red-winged Blackbird makes its bold appearance at the tiny tin roof feeder, the small birds chirp and wait at a distance. I clap my hands once to make this bully go away.
This simple morning leads me to remember all the intangible moments that have blessed my life over time, and since relocating to live alongside my beloved ocean. They are countless. One is the beauty and promise of new beginnings that each Spring brings to my heart and seashore garden. It seems like just yesterday, but already the purple crocuses that surprised me with the first burst of color in February have wilted. Now, the sweet woodruff ground cover has pushed its way above the earth and spread to the left side of the shaded garden at the edge of the porch. At the sunnier front a few tulips already developed heads. I hold a deep sense of attachment to my garden. My hands transplanted the tulips in my three home gardens, beginning north of the border in Canada. Just about every perennial has announced its reappearance.
Each flower, plant, shrub and tree grows up to tell a different story and is like children that you nurture throughout the seasons of life. Many of these green miracles once grew in Havertown, Pennsylvania under the love of my like-a-mother and avid gardener Cindy. No flowers more sentimental to her, than the purple irises transplanted from her grand-mother's garden in Kentucky. Knowing her beloved perennials of years gone by live on in my garden, left my friend with a deep sense of contentment as she moved away. And how could I not reflect upon my pink hydrangea that belonged to my dear friend John's beloved mother Millie, a few streets away. Tenderly grown from a broken branch and bestowed to me with just two leaves, it now stands three feet tall in her memory. Each new bloom reminds me of a special bond of friendship strengthened over the years and the love of gardening passed down from my grandfather Edmond and mother Delia.
It seems that as I embrace this tangible moment, it leads me to remember past intangible ones. And so this precious and peaceful morning must come to an end, as I too must go about my spring duties. I leave with the comfort of knowing that if I simply stay open, new blessings will surely follow both in my life and in the garden.