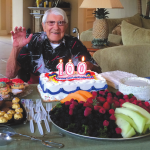 It is 152 miles from Nutley, New Jersey to Wildwood. For Anthony "Bob" Luglio and his wife, the former Margaret Corino, and the families they left behind, it may as well have been the other side of the world.
A young Bob Luglio and his wife Margaret made the trip down the back roads of New Jersey (this was before the Garden State Parkway was built.) from the urban area of Nutley to the just emerging Jersey Shore town of Wildwood to start a new future for themselves. 67 years later, the legacy and family he built on Five Mile Island is stronger than ever.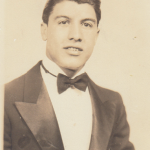 On May 1, 2014 Anthony "Bob" Luglio turned 100 years young. Bob, who now lives in West Palm Beach Florida, spent most of his life in Wildwood. Born in Italy, he came to America at 7 years old. Not speaking any English he went right to work to help provide for his family. After Bob returned from World
War II he married Margaret Corino. Not long after they packed up their newly created life and headed to Wildwood against their family's wishes. "What is in Wildwood?" the family asked. Why would they want to go to a desolate place? Bob knew there would be opportunities to be had. With his unwavering work ethic Bob was sure to be a success.
While raising daughters Judy (Davenport) and Barbara (Terenik) Margaret and Bob Luglio were pioneers in the Wildwood Motel business. In 1954 they built one of the first Doo Wop Era motels on the island with the construction of the Sonata Motel between Juniper and Poplar Avenues on Atlantic Avenue. In addition, over the years they owned and operated several properties including the Grandview Apartments, the Elwood Apartments, The 24th Street Motel and the Rambler Motel. In 1968 they built the Biscayne Motel, which is still owned and run by his family.
Like so many before and after him, Bob also held many jobs in Wildwood to help support his family. One of his first jobs after coming to Wildwood was work- ing at the famous Groff's Restau- rant, which was down the street from his house on Poplar and Atlantic. In addition to being a pioneer in the Wildwood Motel industry, Bob was instrumental in the early years of some of the longest standing institutions in the Wildwoods. As a Member at the Wildwood Country Club, he started the first food concession at Wildwood Golf and Country Club. He was also a founding member of the Hotel and Motel Association in Wildwood and became President of the Association shortly after it was formed.
It was during his tenure that the very first advertising book was published by the association; a marketing tool that is still in use today. After retiring, Bob and Margaret Luglio moved to Florida for the winter months, coming back to Wildwood every summer to be with their children and grand- children. Margaret went to be with the Lord in 2008. Bob now spends his time painting, sculpt- ing and creating many different inventions. He spends time with his family, which include three grandchildren and six great grandchildren, all of whom still have a connection to the Wild- woods and who never tire of his stories about what it was like being a pioneer of one of the greatest shore towns in the world.