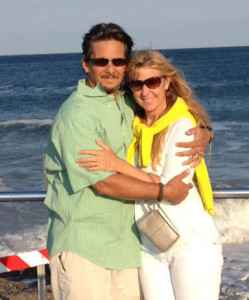 Can I sail through the changing ocean tide, can I handle the seasons of my life? These are just some of the questions I ask myself on a beautiful, sunny day in August as I sit writing on the beach, my sanctuary. As many of you know, my husband, Bobby passed away following a long illness on July 9, 2015, beginning another season in life that I currently find myself slowly sailing through.
Bobby helped me start the paper. (Read our Sun story in the centerfold) He was my biggest fan. I know there's only a thin veil that separates us from heaven. I feel him very close to me.   He used to say, "You're amazingly amazing, Dorth!" Over the past couple of months, when I needed the extra wind beneath my wings to get my work accomplished, I could hear him cheering me on, echoing those words. 
With his encouraging words in my heart, I believe The Sun has been a saving grace for me. It has provided me with a place where I can pour out my heart.  Creating these pages keeps my mind occupied and causes me to move… being out and about delivering papers and meeting with my advertisers, who have become like family over the years. I feel very blessed to be able to do work that I love and that everyone loves so much. I'm reminded once again; God shines all over The Sun!
Comforted by the belief that God's light is always shining, I've read that dying is the last shadow of earth's night before heaven's dawn. What's astonishing to me is that the world keeps spinning, the tide continues to ebb and flow, and the sun and moon take turns rising and setting. When a piece of our souls has been torn away, it seems as though the natural rhythm of life should stop. Out of reverence or recognition, it almost seems rude that it does not — at least for a moment — pause to acknowledge the fact that those left behind are no longer whole and left with broken hearts.
But some sweet day, death and parting will be no more. Our broken hearts will be mended and we will be whole again. Until that Day, we walk in rhythm with the world around us, striving to find a new normal, keeping the clouds away and The Sun shining. Nothing will ever be the same. But even that won't last forever. 
I am forever grateful for the love and support so many of you have shown. Thank you to all who wrote cards, or left comments on my Facebook posts, who sent baskets, and who lifted my son & I up in prayer. I love my Sun family.
Seasons are changing once again, as the calendar (and life) dictate. Now, as the summer sun slowly fades into the horizon to make room for the Harvest Moon, I wish my Sun family a glorious Indian Summer and Second Season by the sea…
Death leaves a heartache no one can heal, Love leaves a memory no one can steal.