by Dave MacDonald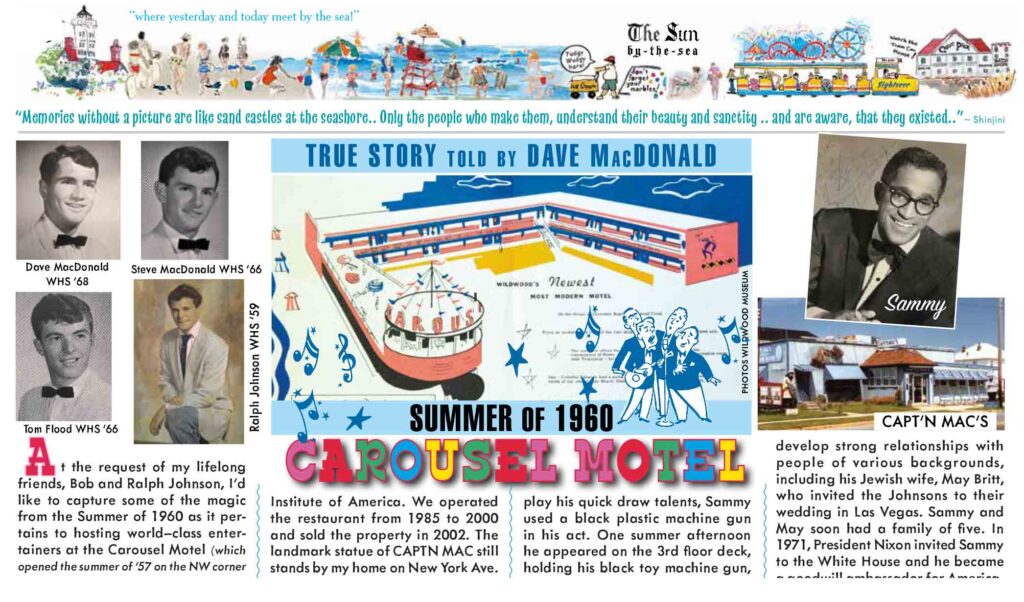 At the request of my lifelong friends, Bob and Ralph Johnson, I'd like to capture some of the magic from the Summer of 1960 as it pertains to hosting world–class entertainers at the Carousel Motel (which opened the summer of '57 on the NW corner of Lavender & Atlantic in the Crest).
My late brother Steve (WHS '66) and I worked as pool boys at the Carousel for three summers in the early 60s. Our employers were the senior Johnson brothers, Earl and Ralph, whose construction business was headquartered on E. 23rd Ave. in North Wildwood, our hometown. All the 2nd generation Johnsons, as well as the MacDonalds, attended Wildwood High with Bob and Billy Johnson, graduating in the early 50s, along with my late brother Jim (WHS '52)

The senior Johnsons managed the construction of the Carousel, but day to day operations were consigned to the next generation: Bob, Billy and Ralph Jr. My brother and I became lifelong friends with them and they became our mentors in every sense of the word. We later worked with them at Jr's Restaurant below the Hotel Dayton at Wildwood and Atlantic Avenues.

Ultimately my brother and I, collectively known as Captn Mac, opened our seafood restaurant at 2nd and New York Aves in North Wildwood, at the site formerly known as Sunbergs and then Garrabrandt's. It was a dream come true and a fitting work site for two brothers with diplomas from the Culinary Institute of America. We operated the restaurant from 1985 to 2000 and sold the property in 2002. The landmark statue of CAPTN MAC still stands by my home on New York Ave.

Many famous performers stayed at the Carousel, in Suite 1 on the third floor, one of the beautiful 65 units that made up the complex. The list of entertainers included Bobby Darin, Chubby Checker, Johnny Mathis, Connie Francis, Lionel Hampton, Buddy Hackett, Eartha Kitt and Buddy Rich. Last but not least, was the incomparable, multi-talented Sammy Davis, Jr. (1925-1990), who made a great impression on the two young pool boys during the summer of 1960. That summer, Sammy was performing at the Bolero nightclub owned by Ben Martin on the NW corner of Oak and Atlantic.
Philadelphia DJ Bob London had great relations with the Four Aces, who also stayed at the Carousel. Bob played a role every Wednesday afternoon. All the performers loved to get together with one another. Bob conducted poolside interviews at the Carousel for local radio. Everyone who witnessed those times couldn't help but see the camaraderie of the entertainment profession.

In those days, entertainers could use plastic firearms as props for their acts. In our day of excessive gun violence, this is no longer appropriate, but in Wildwood's golden era it was commonplace. As well as the pearl handled six shooters used to display his quick draw talents, Sammy used a black plastic machine gun in his act. One summer afternoon he appeared on the 3rd floor deck, holding his black toy machine gun, pretending to shoot Steve and me as we stood poolside. On hearing the classic Rat A Tat-Tat sound, both of us fell backwards into the pool, pretending to be shot. Mr. Davis laughed uncontrollably for almost a minute. We were happy to have bonded with him during his stay.

During the 2020 pandemic year, our nation has struggled with issues of racial equality. I find myself reflecting in a positive way on my experiences growing up in Wildwood by the Sea and interacting with people of various races, religions, nationalities and lifestyles. I was fortunate enough to interact with performers and entertainers of various races and nationalities as well.

Many of the same positive relations that characterize race relations and work in sports environments carried over into the hospitality industry, including all guests of the Carousel Motel. The poor boys never heard a lecture regarding equal treatment. It was just a given and didn't have to be discussed.

Sammy Davis Jr was a nice man who loved life. Because he was born in Harlem, race was a tougher issue than it was for those of us growing up in the Wildwoods. Despite his early experiences, he was able to develop strong relationships with people of various backgrounds, including his Jewish wife, May Britt, who invited the Johnsons to their wedding in Las Vegas. Sammy and May soon had a family of five. In 1971, President Nixon invited Sammy to the White House and he became a goodwill ambassador for America.

He was a talented man who led a hard life. He liked people and showed it, as illustrated by his poolside theatrics. Although he had everything money could buy, plus countless devoted fans, there was a certain defiance in him. Even as a young boy, I could feel him saying, "Don't tell me how to live."

The MacDonald brothers are eternally grateful to two generations of Johnson brothers who introduced us to an exciting world of entertainers who treated people well and who enjoyed the hospitality of Greater Wildwood during that Golden Era.

We learned later that Bolero club owner Ben Martin had called Ralph Johnston Sr. and asked if they would accept Sammy as a guest at the Carousel. The Carousel was proud to help pioneer an era of equal treatment for all in the greater Wildwood hotel/motel industry.
I think 2020 was one of the toughest years in the history of our nation, but we are still being called to forge a more perfect union, to fulfill our country's true potential. Why not look to the examples of people like the Johnson brothers and performers like Sammy?