By Al "Butch" Love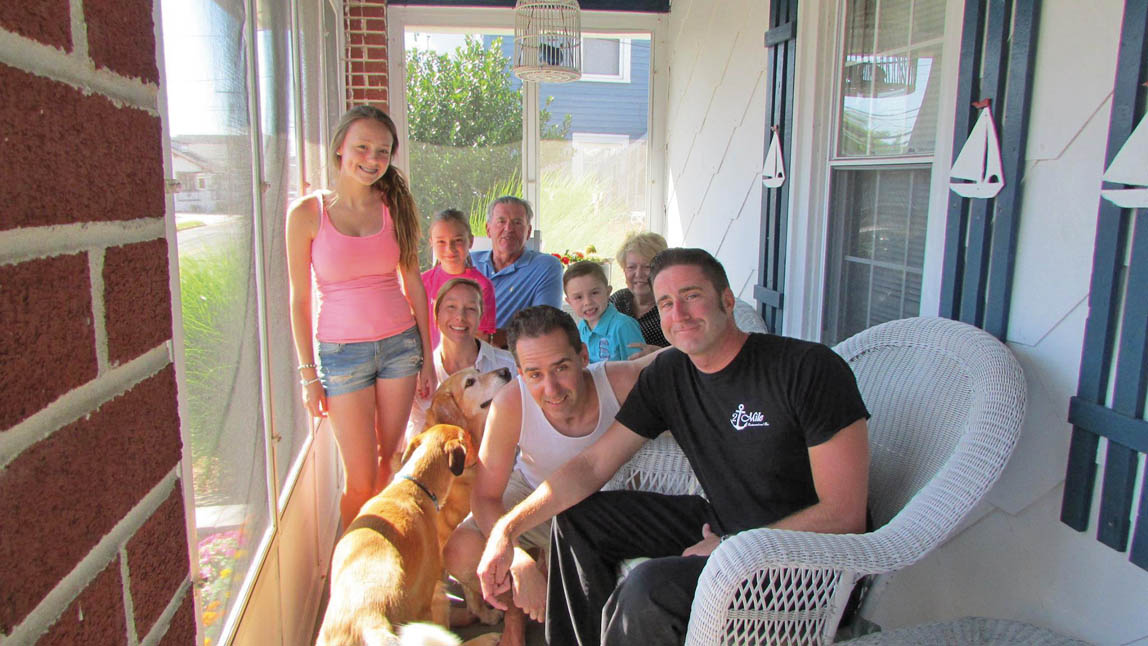 While collecting my thoughts about my favorite place to be by the sea, I wondered, how can I write a story about our porch and make it interesting to Sun readers? Then I remembered the saying, "There Are a Thousand Thoughts Lying within a Man That He Does Not Know Till He Takes up a Pen to Write." So here goes…
If you are fortunate enough to own or rent a summer home that has a front porch, you can relate to my story and the joy of spending endless time sitting with close friends and family. The porch is the gathering place, the place to share stories and memories while basking in the sun, smelling the salt air and enjoying an afternoon drink. It's the best place to watch the world go by without leaving the comfort of home. For my family, that place is busy Glenwood Avenue (and the only road leading to West Wildwood).
In our family, there was a pecking order on who sits on which wicker chair. The eldest, either my father or grandmother, Kate sat on the most comfortable rocking chair by the front door, which possessed the best block view and where it was easy to get in and out without passing over others seated beside you. The passing of time and family members has now reserved this position for me and, in time, my two sons. Even our old calico cat, Rusty had a favorite spot on the porch, basking in the sunlight all day. When she passed, we buried her in our back yard where the rose bush now resides. The song "The Last Rose of Summer" still reminds me of that old cat.
Our favorite weathered chair finally gave way a few years ago. I watched from the porch as it was being compacted, crushed and carried away. As in life, nothing survives forever. It was sad, like losing an old friend and a treasured porch staple.
I grew up with endless memories of my years on that porch. I remember sitting on my mother's lap Friday nights waiting for my Father to finish work in the city, pick up my Uncle Jim and head down the shore, which in those days was about a four-hour drive, over the Ben Franklin Bridge or Camden Ferry, then down the back roads to Wildwood.
When I was about ten years old, my grandmother, Kate would treat me to a train or bus ride to our shore home after school got out. We would walk from the train station on Oak Avenue the four blocks to our house. I looked like an old minstrel character with my face covered with black coal suet from sticking my head out the train window on the way down. Then we sat on the porch waiting for the rest of the family to arrive in my father's Packard. The year I graduated high school my grandmother and I lived there all year. We spent a good deal of time talking together on that porch until the weather turned too cold to stay outside.
Over the years, we also experienced a litany of senses; sounds and smells in the air that ranged from delightful to awful depending on the direction of the breeze. The best was the baking of fresh bread and rolls from the Terminal Bakery a few blocks away. In the evening, the ovens fired up and baked the goodies for the next day deliveries to the stores and restaurants. We sat on our porch and breathed in that aroma. Other nights, we had to go inside when the Menhaden Bunker factory on Rio Grande Blvd. was processing their fish. I think they made it for fertilizer and it really stunk. The wind carried the smell right to our house from over the bay. Many years ago we could hear, smell and see the coal smoke coming from the trains chugging into Wildwood on Oak Avenue. For tips, I went with my wagon to the station to help visitors transport their luggage to their rooming houses.
Sitting on the porch and seeing the County Mosquito Truck spraying DDT coming down the street made for exciting times too. My mom and sister Ann would run inside the house to close all the windows. My brothers Bill, Jimmy, and I would run in the back of the truck hidden in a cloud of smoke. It was fun but later thinking about it, maybe not a good idea. Nowadays our family can sit on the porch and hear the crowd noises coming from the boardwalk a few blocks away. Friday nights the whole family gathers on our porch and watches in awe at the fireworks booming over the beach. It is truly amazing how memories repeat themselves, like having your grandchildren sit on your lap enjoying the same things you experienced with your parents many years ago on that very porch.
Over the years our family has seen many events unfolding from the porch. The West Wildwood Bridge, located a block away, is where we watch the police car lights flashing, chasing speeders before stopping cars in front of our house. One time an elderly man was going too slow and holding up traffic. When told to pull over, he parked on our front lawn! Hudson Avenue is a thru street until it meets Glenwood, where there is a stop sign. Each summer there is inevitably a traffic accident or two at this intersection, two houses from our home. Calling 911 is standard procedure each summer.
We've watched families in the morning walking passed, heading to the beach six blocks away with beach gear and kids in tow, returning much later all sun burnt, sandy and tired, dragging everything back. In the evening, excited families headed up to the boardwalk then later returned exhausted with stuffed animals and sleeping kids. We observed bikers, skate boarders, joggers, and people singing, fighting, kissing, changing clothes, and talking on cell phones and even ducks swimming by during rain storms and flooding. And of course, there are those glorious, end-of-the-day sunsets.
About twenty years ago, the Irish students arrived in Wildwood to work on the boardwalk, beaches and restaurants while experiencing summers at our shore. I remember a fun loving group who stayed the summer at the boarding house next door to our home. One group from County Cork came for four summers. Our family got to know them very well. They had names like Fergal, Killian, Paul, Orla, JoAnne, Yvonne and Ingrid. We often invited them over for dinner on Sunday nights. Later they would sit on our porch and use our phone to call their families back home. Thanks to Facebook, we've followed their lives over the years. Fergel joined the Marines, was shot in battle in Iraq, recovered and is still serving our country. Others have spread out and are living in California, New York, Colorado, and back home in Ireland. They have grown up; some married with kids of their own.
The porch was the center piece for laughter, conversations, antics, music and beer drinking, as well as the sadness of saying goodbye at the end of each summer. My bucket wish list is to visit them in Ireland and meet their parents.
September will be here soon, the leaves are changing colors and falling, the air is cool and crisp, and the town population is getting sparse and quiet. As it has been in the almost one hundred years that we have owned our summer home, this is the time to close up and winterize the house. A time to store away our summer memories for another year. The porch ritual includes removing the screens, bringing in all the wicker rockers, chairs, tables, cushions, the flower pots, hanging plants, parrot cage, wind chimes, and the shore welcome signs. Wicker was the thing before all the old bungalows were torn down in favor of the new modern condos lining our streets today. With modernization, we have lost a bit of our quaint seashore identity.
So, that is my story of our front porch, my favorite place to spend happy and sad times and to recall memories of family, neighbors and close friends. Now, the porch is serving a new generation that includes my two sons, Jeff and Jason, his wife Sara, and my three grandchildren, Delia, Sophia, and Ian. Hopefully, in the years to come the porch will be witness to their good times and fond memories.