by Anita Hirsch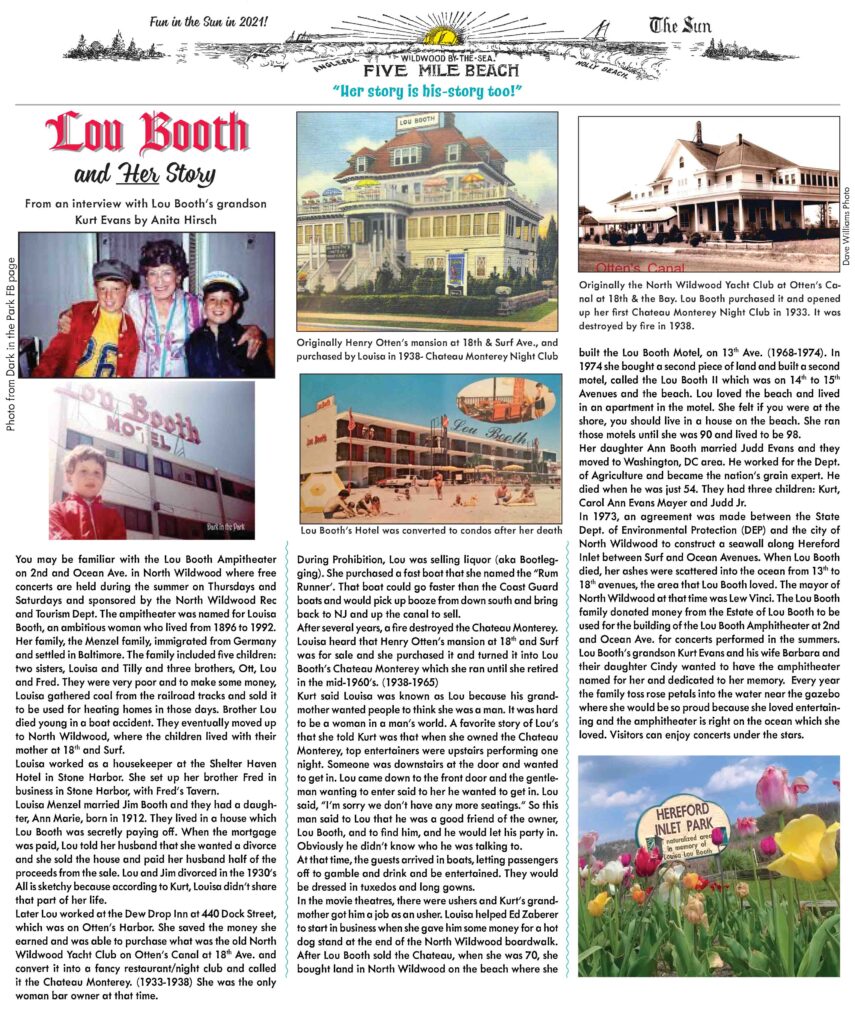 You may be familiar with the Lou Booth Ampitheater on 2nd and Ocean Ave. in North Wildwood where free concerts are held during the summer on Thursdays and Saturdays and sponsored by the North Wildwood Rec and Tourism Dept. The ampitheater was named for Louisa Booth, an ambitious woman who lived from 1896 to 1992.
Her family, the Menzel family, immigrated from Germany and settled in Baltimore. The family included five children: two sisters, Louisa and Tilly and three brothers, Ott, Lou and Fred. They were very poor and to make some money, Louisa gathered coal from the railroad tracks and sold it to be used for heating homes in those days. Brother Lou died young in a boat accident. They eventually moved up to North Wildwood, where the children lived with their mother at 18th and Surf. 
Louisa worked as a housekeeper at the Shelter Haven Hotel in Stone Harbor. She set up her brother Fred in business in Stone Harbor, with Fred's Tavern.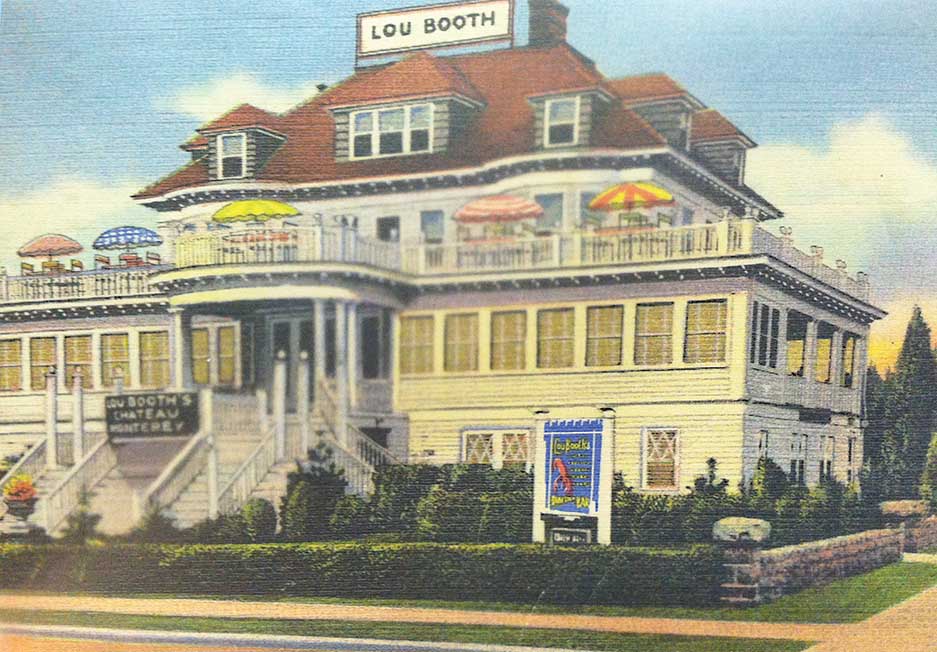 Louisa Menzel married Jim Booth and they had a daughter, Ann Marie, born in 1912. They lived in a house which Lou Booth was secretly paying off. When the mortgage was paid, Lou told her husband that she wanted a divorce and she sold the house and paid her husband half of the proceeds from the sale. Lou and Jim divorced in the 1930's  All is sketchy because according to Kurt, Louisa didn't share that part of her life.  
Later Lou worked at the Dew Drop Inn at 440 Dock Street, which was on Otten's Harbor. She saved the money she earned and was able to purchase what was the old North Wildwood Yacht Club on Otten's Canal at 18th Ave. and convert it into a fancy restaurant/night club and called it the Chateau Monterey. (1933-1938) She was the only woman bar owner at that time. 
During Prohibition, Lou was selling liquor (aka Bootlegging). She purchased a fast boat that she named the "Rum Runner'. That boat could go faster than the Coast Guard boats and would pick up booze from down south and bring back to NJ and up the canal to sell.
After several years, a fire destroyed the Chateau Monterey. Louisa heard that Henry Otten's mansion at 18th and Surf was for sale and she purchased it and turned it into Lou Booth's Chateau Monterey which she ran until she retired in the mid-1960's. (1938-1965)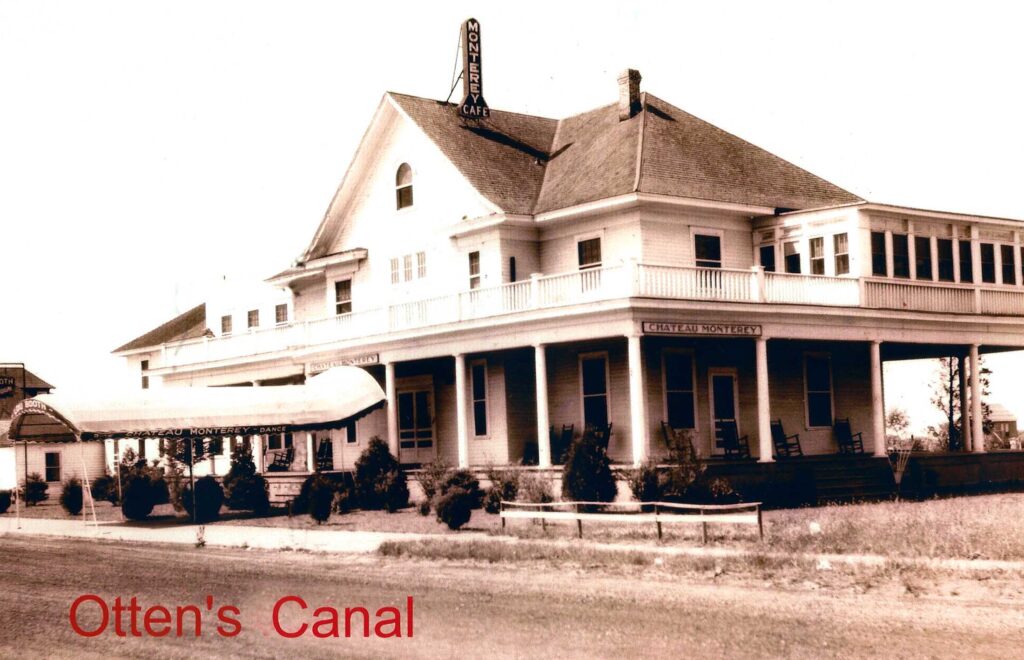 Kurt said Louisa was known as Lou because his grandmother wanted people to think she was a man. It was hard to be a woman in a man's world. A favorite story of Lou's that she told Kurt was that when she owned the Chateau Monterey, top entertainers were upstairs performing one night. Someone was downstairs at the door and wanted to get in. Lou came down to the front door and the gentleman wanting to enter said to her he wanted to get in. Lou said, "I'm sorry we don't have any more seatings." So this man said to Lou that he was a good friend of the owner, Lou Booth, and to find him, and he would let his party in. Obviously he didn't know who he was talking to.
At that time, the guests arrived in boats, letting passengers off to gamble and drink and be entertained. They would be dressed in tuxedos and long gowns. 
In the movie theatres, there were ushers and Kurt's grandmother got him a job as an usher. Louisa helped Ed Zaberer to start in business when she gave him some money for a hot dog stand at the end of the North Wildwood boardwalk.
After Lou Booth sold the Chateau, when she was 70, she bought land in North Wildwood on the beach where she built the Lou Booth Motel, on 13th Ave. (1968-1974). In 1974 she bought a second piece of land and built a second motel, called the Lou Booth II which was on 14th to 15th Avenues and the beach. Lou loved the beach and lived in an apartment in the motel. She felt if you were at the shore, you should live in a house on the beach. She ran those motels until she was 90 and lived to be 98.
Her daughter Ann Booth married Judd Evans and they moved to Washington, DC area. He worked for the Dept. of Agriculture and became the nation's grain expert. He died when he was just 54. They had three children: Kurt, Carol Ann Evans Mayer and Judd Jr.    
In 1973, an agreement was made between the State Dept. of Environmental Protection (DEP) and the city of North Wildwood to construct a seawall along Hereford Inlet between Surf and Ocean Avenues. When Lou Booth died, her ashes were scattered into the ocean from 13th to 18th avenues, the area that Lou Booth loved. The mayor of North Wildwood at that time was Lew Vinci. The Lou Booth family donated money from the Estate of Lou Booth to be used for the building of the Lou Booth Amphitheater at 2nd and Ocean Ave. for concerts performed in the summers. Lou Booth's grandson Kurt Evans and his wife Barbara and their daughter Cindy wanted to have the amphitheater named for her and dedicated to her memory.  Every year the family toss rose petals into the water near the gazebo where she would be so proud because she loved entertaining and the amphitheater is right on the ocean which she loved. Visitors can enjoy concerts under the stars.