by Joe Russo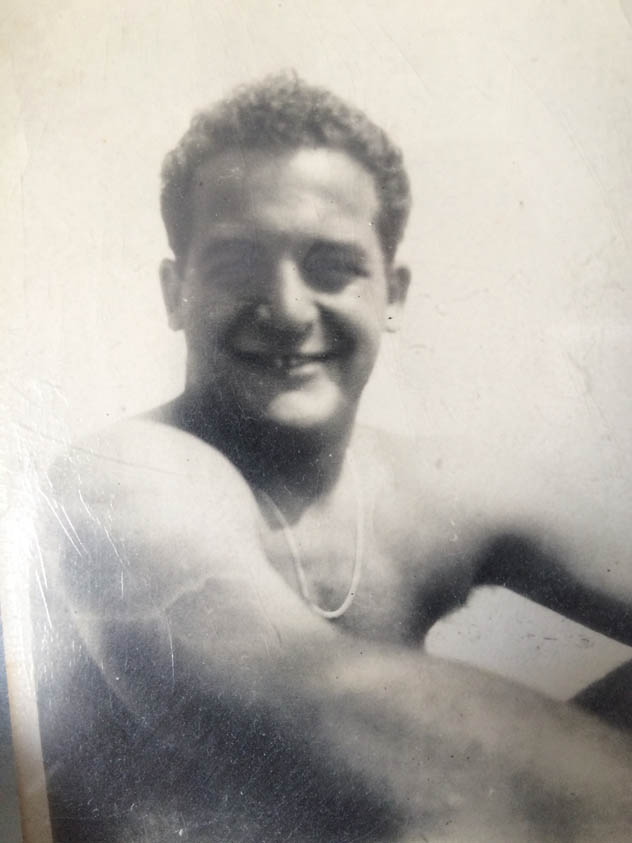 Not long after my father's funeral people started asking me: "What are you going to put in The Sun about your dad?" I said that I didn't know because, truth be told, I wasn't ready to start thinking about it yet. Some of them said: "Why don't you just publish your eulogy? It was really good." I thanked them for saying so but I felt that publishing it on its own would not carry the same weight as it did when I read it during his funeral mass. On that day I addressed those who knew him and loved him. I spoke about things that they were already aware of: that Joe Russo was a kind, funny, compassionate man, and a loving husband; father, brother, uncle, cousin, and friend. For The Sun I wanted to paint a portrait of one of Wildwood's favorite sons, a man who was as much a part of the history of the island as the Doo Wop motels and the boardwalk. I wanted to do this for the benefit of those readers who never knew him. I wanted them to know that it was people like him who helped to shape Wildwood's identity and turn it into the wonderful resort town that we know today. This is the story of one of Wildwood's true icons:
Joe Russo was born in his parent's home on Davis Avenue in Wildwood on March 23, 1931. He attended Wildwood High School, where he starred as a fullback on the football team. For several years he held the school's single game rushing record and once scored six touchdowns in one game. After his graduation from Rutgers University he returned to Wildwood to take over his parent's business, the Gingham Club, on the corner of Park Boulevard and Davis Avenue, where the Ice House Restaurant stands today. Knowing full well that he was going to need some help running the bar and restaurant, he brought his sisters, Moffie Breakell, Rae Santaniello, and Bianchi Sanford in as partners. He married a fashion model from Millville, NJ and they raised five children in their home on the corner of Rambler Road and Atlantic Avenue in Wildwood Crest.
Working together Joe, Moffie, Rae, and Bianchi made their name during Wildwood's golden age of Bill Haley and the Comets, Fats Domino and The Starlight Ballroom. The Gingham Club (and later, Russo's Restaurant) became known far and wide as a place that people could call home. Their good Italian food and old world hospitality were two of the many reasons that people kept coming back. Even some of the well-known celebrities of the time, like Vincent Minelli, his daughter Liza, and Jerry Lewis were frequent customers. No one looked after their customers the way that Joe Russo and his sisters did. They treated everyone like family. If someone was down on their luck they were assured of a warm meal and a place to stay until they got back on their feet if they stopped into Russo's.
Joe Russo was not what his father used to call, a "camicia bianca sporgenza" (a "white shirt boss"). He was very down-to earth. He dressed like an owner who always had some bar stools to repair or a broken pipe to replace. He required only two things from the vehicles he drove back and forth from his house to the bar: that they have heat and brakes. Anything else was a bonus. For many years he drove a beat up old mail jeep around town. It was great for hauling things and mailing letters (of course) and everyone delighted in taking a ride in Joe Russo's jeep. It was indeed a sad day when she finally broke down for good.
As he grew older Joe Russo embraced his role of grandfather. His best friends were his grandchildren. Three of his eldest grandsons, Geoffrey, Michael, and Joseph, were first cousins, all born one year apart. They went everywhere with their grandfather and some of their fondest memories are of the days they spent with him at his house on Tilghman Island in Maryland. It was there that they learned about Skipjacks and Bugeyes (used by the watermen on the Chesapeake Bay for fishing and oystering), how to catch crabs with a trot line, and the art of picking the meat out with a pen knife instead of smashing them with a wooden hammer. They pitched in with the upkeep of the house and they got just as dirty and paint-smeared as he did and they loved every minute of it. When it was their turn, the younger grandchildren were treated to the same fun times with their grandfather. Ask any one of them and they will tell you that their grandfather was their hero.
When Russo's Restaurant was sold in 2008, Joe Russo was not content with just sitting still so he went to work for the City of Wildwood at their information center on the boardwalk. Perhaps you might have stopped by the little building next to Mariner's Landing and been helped by a kindly old gentleman with a friendly smile. After he chatted with you and found out where you were from he sent you on your way with the proper information in hand. He may have also shared with you a little anecdote about the island that he called home for his entire life. And I bet you left that information center with a smile on your face.
I always said that working at the information center was the perfect job for my father. Nobody was prouder of his heritage here on the island or knew Wildwood better than he did. Every time we went up on the boardwalk we stopped to see him and watch him work his charm on those visitors who wandered in looking for help. One time, before we left, he gave us a couple of tram car tickets. "Take a ride on me," he said. I stuck them in my wallet but we never used them. I found them recently and returned them to my wallet, where they will remain for as long as I carry one. Maybe someday we will take that ride.
On January 17th Joe Russo was laid to rest. The turnout was beyond our expectations, as if all of the Wildwoods were present, and we were deeply moved. But the most touching gesture, the one that demonstrated to me what Joe Russo meant to the city of Wildwood, occurred that night: My wife and I were driving into town and we noticed that the Ferris wheel was lit up. My wife said, "Do they do that all the time?"
"I don't think so," I said.
We got to the house and no one was there except my niece. I asked her where everybody was and she said they were all on the boardwalk because "they turned the Ferris wheel on in grandpop's honor." My son came by and we drove up to Schellenger Avenue to see it for ourselves. We parked at the end of the street and walked up on the boardwalk and watched in silence. The only sound was the rattling of the Ferris wheel as it turned and splayed colorful bursts of light out into the winter's sky, all in tribute to my father. I never felt prouder to be his son and I couldn't have imagined a more fitting way for the Wildwoods to say goodbye to one of their favorite sons.