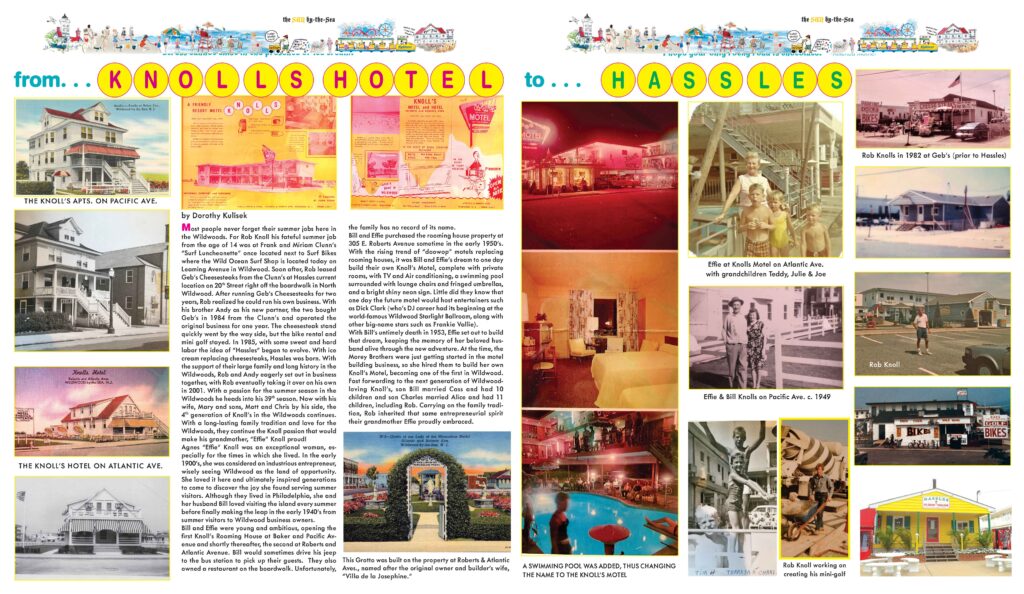 Most people never forget their summer jobs here in the Wildwoods. For Rob Knoll his fateful summer job from the age of 14 was at Frank and Miriam Clunn's "Surf Luncheonette" once located next to Surf Bikes where the Wild Ocean Surf Shop is located today on Leaming Avenue in Wildwood. Soon after, Rob leased Geb's Cheesesteaks from the Clunn's at Hassles current location on 20th Street right off the boardwalk in North Wildwood. After running Geb's Cheesesteaks for two years, Rob realized he could run his own business. With his brother Andy as his new partner, the two bought Geb's in 1984 from the Clunn's and operated the original business for one year. The cheesesteak stand quickly went by the way side, but the bike rental and mini golf stayed. In 1985, with some sweat and hard labor the idea of "Hassles" began to evolve. With ice cream replacing cheesesteaks, Hassles was born. With the support of their large family and long history in the Wildwoods, Rob and Andy eagerly set out in business together, with Rob eventually taking it over on his own in 2001. With a passion for the summer season in the Wildwoods he heads into his 39th season. Now with his wife, Mary and sons, Matt and Chris by his side, the 4th generation of Knoll's in the Wildwoods continues. With a long-lasting family tradition and love for the Wildwoods, they continue the Knoll passion that would make his grandmother, "Effie" Knoll proud!
Agnes "Effie" Knoll was an exceptional woman, especially for the times in which she lived. In the early 1900's, she was considered an industrious entrepreneur, wisely seeing Wildwood as the land of opportunity. She loved it here and ultimately inspired generations to come to discover the joy she found serving summer visitors. Although they lived in Philadelphia, she and her husband Bill loved visiting the island every summer before finally making the leap in the early 1940's from summer visitors to Wildwood business owners.
Bill and Effie were young and ambitious, opening the first Knoll's Rooming House at Baker and Pacific Avenue and shortly thereafter, the second at Roberts and Atlantic Avenue. Bill would sometimes drive his jeep to the bus station to pick up their guests.  They also owned a restaurant on the boardwalk called Morton's.
Bill and Effie purchased the rooming house property at 305 E. Roberts Avenue sometime in the early 1950's. With the rising trend of "doowop" motels replacing rooming houses, it was Bill and Effie's dream to one day build their own Knoll's Motel, complete with private rooms, with TV and Air conditioning, a swimming pool surrounded with lounge chairs and fringed umbrellas, and a bright shiny neon sign. Little did they know that one day the future motel would host entertainers such as Dick Clark (who's DJ career had its beginning at the world-famous Wildwood Starlight Ballroom, along with other big-name stars such as Frankie Vallie).
With Bill's untimely death in 1953, Effie set out to build that dream, keeping the memory of her beloved husband alive through the new adventure. At the time, the Morey Brothers were just getting started in the motel building business, so she hired them to build her own Knoll's Motel, becoming one of the first in Wildwood.
Fast forwarding to the next generation of Wildwood-loving Knoll's, son Bill married Cass and had 10 children and son Charles married Alice and had 11 children, including Rob. Carrying on the family tradition, Rob inherited that same entrepreneurial spirit their grandmother Effie proudly embraced.