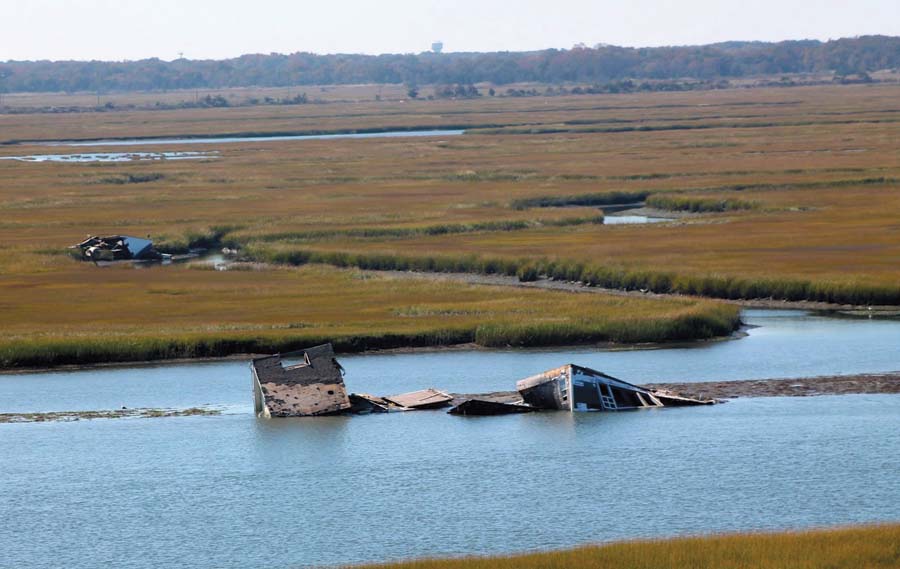 "Winter is in my head, but eternal spring is in my heart." Victor Hugo. We here at The Sun know just how that French novelist felt! Although spring is the season that keeps us on the edge of our seats in happy anticipation of summer, we must admit our Wildwood winter definitely had its moments (despite those coastal storms). Before winter arrived, though, we were feeling happy and lucky at the Irish Fall Festival and light and bright at the Hereford Inlet Christmas Tree Lighting Ceremony. A mild December had us surfing right alongside Santa, straight into a bright new year. Newly-constructed roadways, fluctuating temperatures and a bit of snowy sand made our picturesque scenery complete.
Of course, now that Spring has made its way into our coastal corner of the world, as well as our hearts, we're ready to savor the sights of the season. As political scientist Ward Elliot Hour once so eloquently put it, "The color of springtime is in the flower, the color of winter is in the imagination."
Before imagining all that will bloom during the Summer of 2016 has to offer, we cordially invite you to find the coziest beach chair and catch up on the most significant events that occurred from oceanside to bayside (and everywhere in between) While You Were Away….
WBID Downtown
Farmers, Fun and Films
The Wildwoods Business Improvement District ended the successful season of 2015 playing proud host to the popular Downtown Farmers Market and Free Family Movie Night on their Pacific Avenue lot located in Downtown Wildwood, welcoming thousands of visitors. Movie lovers were invited to bring their beach chairs and blankets to watch movies under the summer stars beginning at dusk.
Downtown Wildwood restaurants also offered Movie Night Specials to encourage movie goers to have an early dinner before the show. 
 Free parking was available for Downtown Wildwood Movie Night and the Farmers Market in the parking lot behind the Pacific & Schellenger Avenues property, with entrances on Schellenger and Oak Avenues.
Kieran Linnane, owner of Hooked On Books at 3405 Pacific Avenue for the past 25 years, spoke favorably about the Farmers Market and Movie Night, saying they "bring people downtown that wouldn't otherwise come this way."
Owners Scott and Michelle Chambers of Zippy's Bikes, opened year round and located at 3900 Pacific Avenue, stated, "a successful summer and a great spike in Saturday morning sales traffic," crediting "the business and customers the (farmers) market drew to the downtown."  
"After what many of us felt was a successful 2014 season, we in Downtown Wildwood saw an even bigger uptick in business for the 2015 season," said Wildwood Business Improvement District President, John Donio, a local hotelier and owner of the Daytona Inn of Downtown Wildwood. "We believe that successful 'anchor events' like our Downtown Wildwood Farmers Market and our Free Family Movie Nights have gone a long way to show that Downtown Wildwood can be a place where not only tourists but locals as well can go enjoy themselves in a family friendly atmosphere and do it on a budget."
Happily, the Wildwoods overall had a great Summer of 2015.
Be sure to look for a complete list of the upcoming summer movies in this issue. Also new for the summer of 2016 are monthly Downtown Market Place Sundays for more shopping fun.
Don't forget to visit the brand new website for both the Wildwood WBID and Boardwalk SID, DOOWW.com, linked to their Facebook Wildwood ByTheSea page as well as Twitter DoWildwoodNJ and their Instagram Wildwood_ by_ the_ Sea accounts for great information and resources for locals, tourists, vendors and Improvement District Members.
By the official start to the Summer of 2016, the Boardwalk Special Improvement District will have mounted 20 brand new beautiful blue bicycle racks, easily identified by their Boardwalk SID logo.  
In Downtown Wildwood, the opening for the first Farmers Market is May 28th, first Marketplace, June 26th and the first Free Family Movie, June 28th.
Look for the Dolly the Trolley schedule on the 2016 Wildwoods Trolley System brochure. Riders will now see how easy it is to ride from the Crest or North Wildwood to visit Downtown Wildwood.
The Summer of 2016 is shaping up to be SUNsational!
Back to Summer Business
"New, Closed and Moved"
As sure as the ancient cycle of the tides, each new season brings change to the Wildwoods.
It arrives in the forms of new or relocated businesses, fresh ventures and dawning adventures; while, at the same time, we inevitably wave farewell to familiar institutions, on the Boardwalk and around the island.
Whether exciting, bittersweet, or perhaps even a taste of both, this annual shuffling of the deck is an essential part of our island's story.
Visitors entering via North Wildwood Blvd. this year will notice that the sprawling Coconut Cove complex has been demolished, after sitting vacant for the past few years. Just down the road, the long-abandoned Lampost Diner – a throwback to a different time – finally met its fate late last year. In both their places will be condos and townhomes.
Also disappearing from the island's landscape were the old Wildwood Bakery building on Park Boulevard and the former Glenwood Avenue Bowling Alley, in the shadow of the Boardwalk.
The Lamb Book also ceased operation, its decades-long home at 9th & NJ currently being renovated for the new real estate office of Brian McDowell.
Ambiance Salon also closed, but popular stylists Robert, Dina and Michelle have moved a few blocks north to Total Image, at 4901 Pacific. And much to our dismay, Tony Luke's in Wildwood Crest will not be re-opening either.
On the move, and re-Opening in style over the winter months, Gia Ristorante has returned home to its previous and most prominent location at 3100 Pacific Avenue after the demolition of the Sand Castle Motel in the Crest.
Tom Cat's Dave & Liz Bannon relocated from Rio Grande Ave. to the Saratoga Inn for Breakfast, Lunch & Icecream on Farragut & Ocean Aves. (across from the former Sandcastle).
ZIPPY'S Bikes at Spicer & Pacific Avenue expands across the street at the former Welcome Home Antiques to open a new showroom.
Moving into the former Lighthouse Pointe across the George Redding Bridge on Shawcrest Road is Vittorio's Italian Restaurant & Bar at The Bay Club. Vittorio's comes to the area by way of Ocean City, a fixture for homemade Italian specialties and desserts on Asbury Avenue. Stop by and give Angela & Claudio Mamo & Vittorio Ottaviano and manager Michael Conroy a warm Wildwood welcome!
Jim & Brandy Johnson have closed their Five Mile Beach Cafe Avalon Coffee at 7th Street, but Kate Trevelis has big plans for the location. Having grown up in the restaurant/food service industry (her parents own the iconic Schellenger's Restaurant in Wildwood), she opened the Wild Fox Café on April 29 serving fair trade coffee, espresso drinks…juices and smoothies…bagels and spreads…fresh pastries…sandwiches…salads and more!
In Anglesea, owners Andrew & Sarah Steiner have dramatically renovated and expanded The Establishment at 100. Winter Storm Jonas, which ravaged North Wildwood back in late January, played a big role in the reshaping of the Establishment, which incurred heavy damage, receiving two feet of water and losing all of its equipment. The interior of the restaurant and dining room received a complete overhaul, with an industrial look to include exposed duckwork, gas line piping and steel touches throughout. They now have sliding barn doors, so the inside and outside bars connect to have an open air effect, while a new bar features seating for 35 and an additional 25 around it. This aspect will be taken full advantage of during busy times and events, such as Irish Festival and the Country Boots Fest.
Stephen and Julie Bass's Fresh on Fifth, the former Marinucci's at 5th & New Jersey Aves., brings more healthy alternatives to the island, including a freshly prepared menu of coffees, smoothies, salads, wraps and more during breakfast and lunch hours.
Slice of Heaven Bakery & Pizzeria takes over a spot formerly occupied by Domino's at 3800 New Jersey Avenue. Owned and operated by Karen & Elbie Munyon, this new entry offers pizza made from homemade dough as well as a variety of custom bakery orders.
Taking the place of Riva Ristorante at 6708 New Jersey Avenue in the Crest, near Sunset Lake, is the Sun'z Up Cafe. Meanwhile, Tavern by the Bay at 517 W. Rio Grande Avenue, will be known as Back Fin Blues. 
Up on the world famous promenade, the new Boardwalk Bucks Discount Ticket Store at 23rd Ave. is an extension of the popular coupon books of the same name. This location will offer last minute deals and daily specials for hotels, activities and entertainment around the island.
Douglass Candies at Wildwood Ave. & the Boardwalk, owned & operated by the original Douglass Family since 1919, edges closer to its centennial celebration. After 97 years, the youngest generation, James & Jason Dugan open up a 2nd location on the corner of 96th & 3rd Ave. in Stone Harbor. How sweet is that for our neighboring town folks!?!
A striking addition – day or night – will be Boardwalk Central's new installation: a gigantic 12-ft x 20-ft. high-resolution LED video board, which faces north from Cedar Avenue, near the front of Splash Zone Water Park.
Opening at 2206 Boardwalk in North Wildwood is South Philly's Original Texas Wieners!
Primo's at the Beach
Remember when you're soaking up the sun at the beach this summer, delicious Primo's hoagies can be delivered right to your beach chair. Place your order online at www.primoswildwood.com.
Primo's Hoagies have been conveniently located in both Wildwood Crest since 2000 and North Wildwood since 2008. They also have locations in Avalon and Fishtown. All four Primo's Hoagies are proudly owned by Paul Szewczak.
Bill and Megan Bumbernick kick off their 2nd season at South Dock Marine Center at 10th & the Bay in North Wildwood, the place for summer fun!
South Dock's new Surfing Pig Restaurant brings together the best of Waterfront Dining, Real Wood Smoked BBQ & Local FRESH Seafood. South Dock's 'Key West' style cafe is still serving one of the Only waterfront breakfasts on the island! South Dock Watersports is home to everything watersports for the Wildwoods.  They're now offering paddleboards and kayaks for taking in the wetlands and wildlife of the back bays of New Jersey.  South Dock's Kahuna's Hawaiian Shave Ice offers an authentic taste of Hawaii.  Made to order in the same way the Hawaiians of old crafted this delectable treat using homemade Ice Blocks and all natural tropical fruit juices and syrups. 
It is the End of an Era for Bonelli's Market, family owned and operated since 1929, well known in the city of Wildwood and a staple on Pacific Avenue. The "Home of the Old World Hoagie" third-generation meat market, which closed its doors on October 11, 2015, was founded by Gaetano Bonelli, who emigrated from Italy. His son, Richard Bonelli ran the market following his father's death in 1969. After college, his son, Jon Bonelli returned to the family business, taking it over when his father passed away in August 2013. Wildwood's old-world deli will be greatly missed by many loyal customers.
Before the summer of 2015 ended and following extensive renovations, Nino's Family Restaurant took over what was once home to the infamous Groff's Restaurant located on Magnolia Avenue, ending an over 90-year run while ushering in a new, delicious era.
In the summer of 1969, Gail Kahn set a trend in South Jersey by opening her first women's boutique Between the Lines at 3607 Pacific Ave in Wildwood. She moved to Garfield & Pacific in the late 70s. In 1984 she purchased 3415 Pacific, which was the original Berman's Jewelers. When business declined on Pacific Ave. in the 90s, Gail moved her boutique to Cape May. She's held onto ownership of the building, and upon learning of the revitalization of recent years happening to the once bustling business district, she decided to close up shop in Cape May and head back home to Wildwood. We hope you will stop by to welcome her back and check out her fabulous new-old boutique.
Icon's Immortalized
On September 7th, as part of the series highlighting Wildwood's most iconic people, The Wildwoods revealed the third Icon Wall Mural presenting Chubby Checker, who is tantamount with not only the Wildwoods but with the dawn of the quintessential generation dance craze, "The Twist."
Ernest Evans, aka Chubby Checker, attended the event. He was chosen as the subject of the third Icon Wall Mural to celebrate the 55th anniversary of his hit 'The Twist,' which was first performed live at the popular 60's spot, the Rainbow Club. The event proudly served as the beginning of the 'Second Season,' which featured key fall events and festivals.
Susan Daly, proprietor and primary artist of Masters Mural Studio, and the artist for the second Icon Wall Mural of Bill Haley and the Comets, was once again chosen as the Icon Wall Mural artist.
The Chubby Checker 40' by 12' Icon Wall Mural is the third in a series of several murals planned throughout the Wildwoods to creatively highlight our town's one-of-a-kind people.
The GWTIDA created the Icon Wall Murals project to redecorate chosen public spaces while enhancing admiration of how the Wildwoods have progressed over the years into a thriving slice of Americana. 
Beach, Boardwalk and Bracelets Bring on Fun in the Sun
Located on Pacific Avenue since 1950, MS Brown Jewelers holds the distinction of being one of Pacific Avenue's longest operating stores. They know Wildwood is all about shore style, beach days and boardwalk nights. Naturally, those who know Wildwood, love it here. The Wildwood Destination Bracelet is a tribute to the sun, fun and shore attitude. The heart of Wildwood is symbolically captured in precious metals and is destined to hook and hold your heart long after summer is gone. Seven wraps of 14 karat gold represent the seven square miles from the Crest to North Wildwood and from the bay to the beach. With a glance at your wrist, the salt air will come and with it the reminder of the raucous sound of the boardwalk at midnight, a party with friends, warm sand between your toes, your first kiss….A symbolic memory of your summer at the shore, the Wildwood Destination Collection is your treasured reminder.
Wildwood Goes Country
The toe-tapping crowds arrived for the first annual country-western themed "Boots on the Beach," held on September 18-19 on Olde New Jersey Avenue in North Wildwood. The free event featured many country western-loving vendors, food, and, of course, country bands, along with country line dance instructions with radio station "Cat Country" providing the music. Along with great entertainment, the cowboys and cowgirls were treated to sunny skies and warm temperatures. The event, held the weekend before the Irish Fall Festival, promises to grow in the years to come, welcoming country lovers far and wide.
An Outdoor Extravaganza
The Anglesea Irish Society will hold a pre-fall festival on September 9th and 10th in celebration of all things Jersey shore. Vendors from area surf and skate shops will be offering discounted items, with vendors featuring many seaside activities including surfing, fishing, running and boating. Reggae bands and modern surf rock live will be performing on the outdoor stages with DJ music, along with food and drinks available at the seven establishments located along the festive strip.
A Spiritual Inauguration
A Solemn Ceremony Installation of Reverend Joseph Wallace as pastor of the parish of Notre Dane de la Mer at St Ann Church in Wildwood was held on October 10th by the most Reverend Dennis J. Sullivan D.D. Bishop of Camden.
Let There be Peace
The lights projected from the Wildwoods Convention Center offer the inspiration for the creation of 'Peace Lights' as a symbolic gesture for peace and non-violence in recognition of the United Nations (UN) International Day of Peace on September 21st.
A Memorable Boy Scout Salute
On November 21st, Chapter 955 Vietnam Veterans of America, alongside Boy Scouts of America Troop 185, North Wildwood, led a recognition ceremony and new monument dedication on the Burk Avenue side of the Vietnam Memorial Wall in Wildwood. Speakers, including Marie Hays, spoke of their familial connection to the monument. Recognized at the event was Eagle Scout Sean McBride, who planned and finished the monument and surrounding grounds, earning his Eagle Scout badge for the beautification project. 
A Supersized Visit
Former Wildwood star Randy Beverly, a 1962 Wildwood High School graduate who helped the New York Jets win Super Bowl III, appeared at his alma mater on January 29th to present the school with a golden football, which was presented by the NFL to the high school alma mater of every player or coach who appeared in a Super Bowl in commemoration of the Super Bowl's 50th anniversary in February.
Beverly was also a basketball and track star. He played defensive back for the Jets and intercepted two passes in the team's dramatic 16-7 upset of the Baltimore Colts in Super Bowl III after the 1968 season.
Beverly, who currently resides in Monroe Township, played three seasons with the Jets before briefly playing for the San Diego Chargers and Boston Patriots.
Star in Training
Despite ligament damage to her ankle in the spring of 2015, Caitlin McMullan, a Wildwood Catholic High School junior, has emerged as one of Cape-Atlantic Leagues most improved basketball players, hitting nearly 40 percent of her three-point attempts while averaging 16.9 points per game. Her family runs the popular North Wildwood establishment Anglesea Pub, where she and her friends enjoy "Wing Night" after a game. Caitlin, who also plays soccer at Wildwood Catholic, posted 11 goals and 10 assists last fall.
An Anglesea Award
BuzzFeed named year-round favorite The Anglesea Pub Best Irish Pub in New Jersey. Staff writer Annie Daly, with support from Yelp, based her decision, in part, on its coziness and "sense of home." The Anglesea Pub is also home to the Best Poured Guiness in NJ.
Baking by the Sea
Tim Samson, Morey's Piers marketing director and Wildwood Crest resident since 2003, began baking with the help of his mom, aunts and grandmothers during his childhood days in his hometown of Michigan. His move to Wildwood reignited his passion for baking, happily reconnecting him with his family and his past. That passion led to him being featured on ABC's holiday-edition television show, "The Great Holiday Baking Show," where he competed against five other amateur bakers, making it to the third round. For four weeks, he competed alongside some of the nation's best amateur bakers in a series of themed challenges, working toward ultimately becoming the Holiday Baking Champion. Samson, who bakes from scratch, believes baking is a science. His delicious repertoire includes cookies and cupcakes and his favorites, croissants and pastries. While he considers baking a great hobby and stress reliever that happily feeds the soul as well as the body, he loves his job with the Morey's. Luckily for our town, he maintains no aspirations to become the next reality star!
A Wildwood Success Story
In March, Wildwood Crest native and Wildwood Catholic High School graduate, class of 2004, Joe Maloy finished 49th overall as the second American finisher at the International Triathlon Union World Triathlon Abu Dhabi in the United Arabs Emirates. Maloy, who now resides in San Diego, CA, finished the Olympic-distance 1500-meter swim, 40-kilometer bike, 10-kilometer run course in 1 hour, 51 minutes, 11 seconds, finishing three places behind Jason West, the first American.
Maloy, who in November 2015 finished first in the Noosa Triathlon in Australia (while becoming the first American in the event's 33-year history to win the elite men's race), got his start in cross country and swimming during his Wildwood school days. He spent seven summers on the Wildwood Crest Beach Patrol. Now, the determined Wildwood star is attempting to qualify for the U.S. national team for the summer of 2016 Olympics held in Rio de Janeiro.
Maloy became the top American and 24th overall on the ITU Olympic qualification list.
As we went to press with this issue, USA Triathlete Joe Maloy was preparing to enter the final Olympic trial race in Japan. Our prayers are with the Maloy family.
A Newly Designed Wildwood Crest
Wildwood Crest commissioners unanimously approved a redesigned logo and slogan to signify the city's plan to rebrand the borough and set the community apart from other Wildwood cities. Their well-received slogan, "It's better in the Crest," replaced other slogans including, "Crest is best," "The crown jewel," and "Shore is beautiful." The logo, designed by Finch Brands, the Philadelphia-based company, was slightly tweaked. The new version is a letter C with a well-defined wave containing colors lighter than the original type. According to Commissioner Don Cabrera, commissioners were striving to merge archaic and various municipal websites into one.
Notable Death
Rose Tata, 94, longtime manager of Mack's Pizza, died November 16, 2015. Philadelphia-born Rose spent most of her adult life happily in Cape May County. She is fondly remembered by many, including those who worked for her as teenagers, who recalled a tough but goodhearted person who became their confidante and friend. Joe Mack, who opened the pizza place in 1953, hired Rose shortly after she and her husband sold their Boardwalk restaurant. He offered her a short-term job, one she proudly held for 40 years until her health declined and she reluctantly retired in 2012.
Can't Stop the Wildwoods Love
On September 10th, the Wildwoods announced Karen Thompson of Folcroft, PA as the latest winner of their 'Can't Stop This Feeling,' Vacation Giveaway, chosen by a random computer drawing from over 16,700 entries accepted via website and mobile contest entry forms. The prize, valued at approximately $1,200.00, includes a three-day, two-night stay in Wildwoods anytime through September 1, 2016.
The award-winning 'Can't Stop This Feeling!' marketing campaign, which began in 2014, features print, TV and radio, electronic and outdoor promotions intended to express the strong emotional connection visitors experience during a Wildwood family vacation.
Hollywood Wildwood Style
A bit of Hollywood came to Wildwood this spring when Wetland Productions, LLC began filming the upcoming independent feature film, Wetlands in Cape May County. The police drama, which will be released in 2017, stars Adewale Akinnuoye-Agbaje and tells the story of an ex-Philadelphia police officer who moves to a charming shore town during the winter to make amends with his family.
The Critics Have Spoken
Family Vacation Critic named The Wildwoods' FREE beaches among the 2016 Best Beaches for Families in the USA. The Family Vacation Critic website, a leading online resource of travel information for families, offers comprehensive reports on family-friendly accommodations and destinations, conducted by experienced family travel experts and member-submitted reviews. John Siciliano, Greater Wildwoods Tourism Improvement and Development Authority (GWTIDA) executive director/CFO stated, "This award is truly a tribute to everyone here who works tirelessly to keep our beaches clean and safe, and to make the Wildwoods the go-to place for visitors to make lifelong memories with their families."
THE BOARDWALK BEAT ~ Cream of the Convention Center Crop
SportsEvents, the magazine that assists sports event planners in producing sporting events nationwide, announced that the Wildwoods Convention Center was named a Readers Choice Award winner. Mayor Ernie Troiano spoke of the Convention Center's unmatched dedication to accommodating sporting events, stating, "The City of Wildwood is thrilled that the Convention Center was once again recognized as a top sporting event venue."
Morey's Mania
Amusement Accolades
During the 2015 Golden Ticket Awards held on September 12, 2015 at Luna Park in Coney Island, New York, Morey's Piers & Beachfront Waterparks was named "Best Seaside Park" by Amusement Today, an amusement industry leader.
Second generation partners Will and Jack Morey humbly shared the honor with their hardworking staff and spoke of their dedication to preserving the authentic boardwalk experience while remaining innovative.
Morey's Piers was chosen at the top of its group by a panel of qualified park aficionados from around the world, narrowly beating Santa Cruz Beach Boardwalk, located in Santa Cruz, CA, who has held the award since 2007. Runners up included Blackpool Pleasure Beach in Blackpool, England and Gröna Lund in Stockholm, Sweden.
Warm congratulations to Raging Waters and Ocean Oasis Water parks, who received the impressive "Platinum Safety Award" in acknowledgment of their aquatic safety programs. Making the recognition even more impressive, only 10% of qualified water parks throughout the world receive this award.
Morey's Piers ended the 2015 summer season by earning another Ellis and Associates (E&A) Platinum Safety Award, which reveres water parks going above and beyond the standards for aquatic safety. Morey's Raging Waters Water Park received the Platinum Safety Award for 19 successive years, and Morey's Ocean Oasis Water Park has been awarded that same honor 15 years in a row.
After many off-season preparations, Morey's Piers began a brand new, fun-filled season on March 26, 2016.
During that active planning time, Morey's Piers motel, The Starlux added a top-of-the-line Miniature Golf course, with plans to add on 60 more rooms.
Happily coinciding with the 100th birthday of mini golf is the coolest mini golf course ever built, conveniently located across from that infamous "WILDWOOD" sign and retro Starlux Boutique Hotel on the corner of Rio Grande. The golf course proudly offers 27 holes, two levels, and three creative themes (beach, ocean, and boardwalk). During your trek around the course, you'll encounter a colossal sand castle, massive sea creatures, plastic palm trees and the world's largest artificial sand dune on the island. After an imaginative round, be sure to visit the concession stand for ice cream! Kohr's & S'mores too!
Please visit www.starluxminigolf.com for handy golfing tips, prices and operation hours.
Surfside Pier may have let go of the Sky Coaster, but its sister ride is still flying high on Adventure Pier. Kanga Bounce, meanwhile, made a big comeback, replacing the Sky Coaster. The Great White Roller Coaster got an update with new tracks, making for a smoother ride. Adventure Pier's The Tornado is no more. The Maze is taking its place (between the Screamin' Swing and Sky Coaster) while Formula One Raceway, the Go Karts on Surfside Pier, made the move to Adventure Pier's Grand Prix Go Kart track. Joe's Fish Company at Surfside Pier expanded their seating, while Raging Waters Water Park also expanded. In 2017, Morey's Piers Great Nor'easter, an inverted steel coaster that has been an integral part of Surfside Pier since 1995, will be getting a major makeover to make for a smoother Nor'Easter. A contest will be held to choose the new name. Jack Morey reported that the track with the "new bending technology" is being made in Holland and will offer its thrill-seeking passengers a smoother ride.
Rocking Lessons
The School of Rock, located on Moreys Piers, does more than teach music. The interactive environment helps its students grow, not just as musicians but as motivated leaders. Students from around the world are welcomed to study guitar, bass, drums, keyboards and vocals in an inspiring seaside setting.
Getting Crafty by the Sea
Speaking of fun Boardwalk things to do (and weren't we?), don't forget to check out the Boardwalk Craft Shows, located at the southern end of the boardwalk, occurring seven Saturdays and Sundays this summer, rain or shine. There you'll find the best handcrafted homemade items. Check in this fun and informative issue for scheduled dates.
BEACH HAPPENINGS
During the city's last meeting of the year 2015, Wildwood City Commissioners adopted a redevelopment plan for the CAFRA-permitted beach area, much to the dismay of some in the business community. Commissioner Pete Byron stated the plan would make beach activities like concerts easier, therefore making it easier to improve income through corporate sponsorships, revenue sharing and concession fees. The zone includes the area between Cresse and Schellenger Avenues.
Byron spoke of the city's financial need to maintain their free beaches and that they cannot continually expect the taxpayers to incur the expense. He stated the plan, which has been discussed for years, included proposals for a beachfront zip-line, events and a beach bar, with money made from the beach reinvested in the beach. [Byron recognized the city's hard work to benefit from their biggest (sandiest) asset, the beach, which produced $270,000 in new income during 2015 from concessions and innovative attractions.
During the summer of 2015, they made nearly $270,000 and expect to increase that amount.
Beach Project
The State of New Jersey Department of Transportation, in conjunction with North Wildwood city officials, began work on a back-bay beach creek dredging project in September 2015. Approximately 43,000 cubic yards of sand was dredged from the Beach Creek channel and Hereford inlet onto the front beach of North Wildwood, just south of 2nd Avenue and JFK Blvd, providing desperately-needed replacement to the beach following years of erosion.
Beach Repairs
Following the fall's coastal storm, work began to restore sand on our damaged beaches between 3rd and 7th Avenues. The dredging project included the destroyed 5th Avenue beach ramp. Beach Creek on the bayside was dredged from Hereford Inlet to Maryland Avenue, channeling sand back to the northern beach. North Wildwood Mayor Patrick Rosenello said the project was more about stabilization than replenishment, with crews working nights and weekends. Unfortunately, a powerful full moon winter coastal storm Jonas that occurred in January obliterated the sand that was placed there over the fall.
During a joint mayoral address to the Greater Wildwood Chamber of Commerce in April, the mayors of Wildwood, North Wildwood, West Wildwood and Wildwood Crest discussed recent improvements as well as their enthusiasm for the upcoming tourism season following winter's damaging storms. During the spring season, the cities worked together to help repair suffering North Wildwood beaches with trucks carting extracted sand from the outfall pipes from Wildwood and Wildwood Crest beaches, moving it to North Wildwood beaches.
Also at the joint address, West Wildwood's Mayor Fox expressed his gratitude for the help his town received from other Wildwood towns during Storm Jonas.
Coastal Storm Claims a House
On the night of October 2nd, residents in the low-lying community of Grassy Sounds, located in Middle Township outside of North Wildwood, heard a loud crash followed by the sad sight of the two-story home of Steward Tait dislodge from its pilings and float away; the result of a coastal storm that for days had been pounding the Jersey coast. Fortunately, Tait was not there at the time and there were no injuries. Tait had not lived in the house for many years. Over the course of many storms, the house had fallen into disrepair, contributing to its inevitable demise. The home, according to Middle Town township police, had been falling into the channel for years and was not connected to utilities. Neighbors, including Tait, spent the next day cleaning up the marsh debris and dislodged boards surrounding their homes as high winds and strong tides indicated the coastal flooding still to come. Tait was responsible for hauling away the debris (the house landed in Beach Creek in several parts). Unfortunately, some docks were damaged as the detached house floated by them.
Dog Park Completed
Construction began just before Labor Day on North Wildwood's beach park, located at 22nd-23rd Avenues, and now offering man's best friend the sandiest place to meet and greet.
A Holiday Shore Gift
Just in time for the holidays, North Wildwood Mayor Patrick Rosenello announced that North Wildwood was awarded over one million dollars in grants to finance numerous community developments and infrastructure enhancements. The mayor spoke of the latest improvements continuing to set North Wildwood in a class by itself while maintaining their standing of having the lowest average property beach tax of any Jersey shore town.
The project will be done in stages, block by block from now through the summer season, as the storm sewer lines underneath the bike path will also be replaced. The project includes removing the current pipe, installing a larger pipe and a new bike path on top along with completing tying the dune crossovers to the handicap access from the street, making possible a flawless, handicap-accessible entrance to the beach on the bike path. The beautiful new concrete beach bike path will be 12ft wide and extend from 5th to 15th Avenues, connecting at the 15th Avenue Transportation Hub, 1 block from the end of the boardwalk. This will be the 1st tier of a multi-year project recently introduced by Mayor and Council that includes showers at every beach entrance, ADA compliant beach access ways and further supplementary infrastructure projects.
North Wildwood Administration thanks residents, property owners, vacationers and visitors for their understanding and cooperation during the intermittent closures caused by this worthwhile project. "This is one of many projects under our Administration that will add to the aesthetic views of our shoreline; and I'm looking forward to seeing the final product," said Mayor Patrick Rosenello.
A Reconstructed North Wildwood
On April 5th, the North Wildwood City Council passed a resolution awarding a contract for the 2014 street and utility reconstruction to asphalt paving systems. "At long last we're awarding the NJEIT [New Jersey Environmental Infrastructure Trust] project that we've been working on," said Mayor Patrick Rosenello at the city council meeting. It's referred to as the 2014 street and utility reconstruction because that's when they began working on it.
The $13.6 million project will mostly be funded by the NJEIT under the New Jersey Department of Environmental Protection and will eventually result in a completely-rebuilt Ocean Ave. from 2nd to 18th Aves. Surf Ave., from 1st to 11th Aves., along with many east-west streets, will most likely be reconstructed as well. Since roads cannot be disturbed during the summer season, construction will not begin until close to the fall of 2016 with a possible completion before the summer of 2017.
A Brand New Seaside View
North Wildwood lovers will now have three new places to enjoy the seaside view with the addition of two beautiful new gazebo structures completing the picturesque sitting area on the seawall at 2nd and JFK and  1st and Surf Avenues as well as a brand new gazebo  at  Allen Park.
The Allen Park Playground, located at 21st & Delaware Avenues, was temporarily closed beginning April 25th while new playground equipment was installed with hopeful plans to reopen in time for summer fun!
Wildwood's New Jersey Avenue Upgrades
A $2.6 million project to upgrade New Jersey Avenue from 26th Avenue to Youngs Avenue began in October 2015 and included replacing concrete curbs, adding handicap-accessible ramps at intersections and enhanced traffic signals. The street construction was completed by the end of March 2016.
Exit 4A & B Switcharoo
A sign on the Garden State Parkway near Exit 4 to Wildwood and Rio Grande alerted travelers that exits A and B were renumbered, making Wildwood Exit 4A now.
New Year New Election For the fourth time, Mayor Ernie Troiano Jr. was sworn in by his father's close friend and fellow Lawrenceville graduate class of 1946, retired Sen. Jim Cafiero, on January 5th at the city's reorganization meeting at Wildwood City Hall. Also taking the oath of office were re-elected commissioners Pete Byron and Tony Leonetti, who were sworn in by State Senate President Steve Sweeney. Byron, Leonetti and Troiano, who were elected together in the city's May 2011 election, often referred to themselves as the "BLT team" and maintain an open-door policy as they work toward moving the city in a positive direction.
The Voters have Spoken
The Borough of Wildwood Crest held a special election January 26th for a referendum on Bond Ordinance No. 1222 at the established Wildwood Crest polling places in all five of the borough's regular voting districts.
Registered Wildwood Crest voters met to decide if the bond ordinance appropriating approximately $2.7 million for road improvements, street utility work and the construction of medians along Pacific Avenue from Morning Glory to Primrose Roads should be approved. The bond ordinance was approved by a vote of 2-1 by the Wildwood Crest Board of Commissioners on October 7th, 2015.
Residents who opposed the construction of medians along the northern end of Pacific Avenue proposed a modified petition opposing the endorsement of the bond ordinance that was certified by the borough clerk on November 16th. An earlier petition presented on October 23rd was unable to be certified by the borough clerk, who consequently notified the submitter on the appropriate process to make the petition biddable. Ultimately, 311 voted YES and 593 voted NO to medians.
Municipal Matters
During a ceremony held on August 21, 2015, Patricia A. Feketics was sworn in by Deputy Mayor Joyce Gould as Wildwood Crest's new municipal clerk and registrar of vital statistics. Feketics, who replaced recently-retired Janelle Holzmer, the deputy municipal clerk since July 2013, spent 10 years in the administrative offices of the Wildwood Crest Police Department. She is a Wildwood Catholic High School graduate with a bachelor's degree in English and a master's degree in higher education administration from Rowan University.
Up for Adoption
In an effort to keep their beaches clean, the Borough of Wildwood Crest has established an "Adopt-A-Beach" anti-litter program. Non-profit organizations or volunteer groups of no less than four participants per cleanup who adopt one of the borough's 42 beach street ends will be responsible for litter pickup no less than four times per year between January and April as well as September and December. Supplies along with recycling and disposal of the collected litter will be arranged by the Wildwood Crest Department of Public Works. Those registered in the program are required to attend a safety orientation session.
Registered groups will be recognized through signs placed at the street end entrance of their adopted beach.
For more information, contact the Wildwood Crest Department of Public Works at (609) 522-7446.
West Wildwood Tax Increase
During a March meeting, the West Wildwood Board of Commissioners presented a $2.5 million budget for 2016. According to West Wildwood Mayor Chris Fox, a tax increase of 1.8 cents on the tax rate per $100 of assessed value is an unfortunate necessity due to the expense of storm damages, shortages to make up for and increased wages.
For the 2016 budget, the total adopted appropriations are $2, 462,609, a $276,073 increase over 2015's total appropriations, which were $2, 188,536.
Full Service Accommodations
John Siciliano, Executive director of the Greater Wildwoods Tourism Improvement and Development Authority, spoke about plans for a Convention Center hotel to attract business travelers to the resort in the hopes of encouraging mid-week business.
The Wildwoods Convention Center got one step closer to the long-discussed host hotel thanks to state assistance focused on the goal of making the center a full service event service, according to John Siciliano, executive director of GWTIDA. Siciliano hoped the RFP would be in the hands of a developer in 2016, with the project completed in 2018.
The hotel would have approximately 120 rooms. With hotel room prices ranging $90 to $150 per room to build contingent upon the types of rooms built. Siciliano said GWTIDA is not looking for a five-star hotel but rather a thriving hotel that would appeal to visitors, specifically business travelers.
The Convention Center has found a young following and what Siciliano refers to as SMERF markets – social, military, educational, religious and fraternal, comprising approximately 30 percent of total meetings. He said GWTIDA is not trying to take business away from existing hotel owners, but rather to offer another point of service.
Mayor Ernie Troiano doesn't believe it would take from motel business. He spoke of the city's determination to get the project off and running alongside the Convention center, which is doing its part to move things along. Commissioner Pete Byron believed the solution is to have a hotel that is connected to the convention center.
According to figures from GWTIDA, the center has supplied over $650 million to the Wildwoods economy since it opened 13 years ago. 
The Sun's While You Were Away Weather Report
Weather in our coastal community has its share of highs and low (tide), resulting in a roller coaster ride of high winds and low temperature along with sunny skies and balmy beach days.
Labor Day Weekend 2015 offered blue skies and temperatures in the high 80s, no rain and mild winds, ending an almost perfect summer. The Summer 2015 was one of the best on record in years… Economically and weather wise.
Adding to our record best: September had near-perfect weather up until Biker Weekend but happily a near-perfect week followed. 
The next week and the beginning of the fall season was like someone flipped a switch from Technicolor to gray skies all week heading straight into the Classic Car and Seafarer Weekend along with the Irish Fall Festival.
High NE winds, a Full Moon and high tides brought major beach erosion at the start of North Wildwood's Beach Replenish project, which took place September 21st to the 28th.
From September 30th to October 4th, a Nor'eastern was fierce, leaving extreme tidal flooding and beach erosion in its path while making additional headlines when a Grassy Sound house floated away.
Hurricane Joaquin thankfully blew out to sea and we were spared.
The Race of Gentlemen (TROG) was rescheduled for the following weekend.
Hydrofest had already been cancelled (unpredictable weather often makes event planning a challenge).
October 5th to November 7th was all about INDIAN SUMMER!! Temperatures for all of November were in the 70s with hardly a drop of wind, giving perfect weather for Halloween Trunk or Treating and Fishing & Boating.
Wildwood glowed thanks to the most glorious Fall sunrises & sunsets!!
November 21st came with a double rainbow over the sea, one of the many rainbows coloring our skies in 2015, a happy reminder of how lucky we really are!
With the start of the holiday season, Thanksgiving day was more like a spring/summer day for all the turkey trotters.
Next came a December to Remember, when all was calm and mild!
A Striper fishing frenzy occurred thanks to the beautiful creatures enforcing themselves on bunker.
It certainly looked like summer out on the horizon with all the boats. 
During this time, there were Humpback Whale sightings!
Dolphins were still hanging out, enjoying the sun and surf, along with more people on the beach than are generally seen during Santa Season.
The Christmas parade was like a beautiful summer night. The balmy weather encouraged even bigger crowds at the Pinch the Grinch run and Family Holiday Celebration.
Adding to the beauty always surrounding us, the Christmas Full Moon occurred for the first time since 1977 and the last time until 2034. 
The calendar finally turned to 2016 and with the first week of the new year, plunging temperatures hung around for a few days before returning to normal winter weather in the chilly 40s.
On January 16th, we had the warmest Polar plunge with spring-like temperatures for those dedicated plungers.
One day later came the first snowfall of 1", declaring winter had finally arrived…brrrr
That one inch indicated the calm before big storm Jonas ushered into town, hanging around from January 22nd to the 24th, dumping snow, rain and severe coastal flooding, resulting in power outages. The Full Wolf Moon, the strongest moon, gave light to all that dreary darkness.
North Wildwood officials say the city hit a record high tide on Saturday morning with numbers reaching a record 9.44 feet cresting between 9:37 a.m. and 9:41 a.m. Flooding was up from the bay to Atlantic Avenue on most street. It was quite crazy! Mayor Patrick Rosenello worked tirelessly alongside emergency responders to rescue approximately 150 from flooded homes. They continued to work with their partners at the State and Federal level in helping residents and business owners recover from the storm as they prepared to welcome countless visitors to our town for the summer of 2016. They proudly recognized that North Wildwood and Cape May County are great places to live and some of the most popular East Coast vacation spots.
The first week in February brought a "Polar Coaster" of sorts to town, with the Groundhog seeing his shadow and predicting an early spring. True to his word, the next few days brought spring-like conditions, with rain and temperatures hovering in the 60s.
February 5th, however, began with a winter storm of rain and snow.
Adding to our climate coaster ride, February 8th brought a bizarre coastal storm on an otherwise sunny day. Life by the sea is never dull!
Fortunately, more mild weather soon arrived, bringing more rain than snow to town.
The groundhog's prediction continued to be right, with February ending with spring-like temperatures in the 60s!
March most definitely came in like a lamb, with very few "lion days" in between, along with spring-seeking crowds visiting the boardwalk and the seawall. Mild temperatures and a beautiful week led up to daylights savings time. Even longer sunlit days were on the way!
Marching on, the wind was blowing and the waves were rolling during a Nor'easter, sending us straight into another unpredictable season by the sea.
Contributing to our Polar Coaster ride, a bit of scenic snow welcomed the first day of Spring!
Easter weekend arrived early in March, and with it a beautiful time to welcome the crowds to Morey's Piers opening day. Thanks to Michael Horst, local beach walker, who constructed a 10 foot "inlet cross" out of driftwood, there was also a growing number of sunrise walkers along the inlet beach in North Wildwood, awed by the surreal sight. The Easter Sonrise service held at the lighthouse on the seawall held by Anglesea Baptist had a special church service fittingly including the inlet cross.
That elusive March lion finally showed up the first week in April, when high winds and rain resulted in Morey's Piers being closed that weekend. A frost warning, complete with possible flurries, along with those gusting 40 mph winds, made April's beginning feel like winter's comeback!
Winter-like conditions continued to make headlines throughout the month, as our surrounding areas were blanketed with one to three inches of snow, giving new meaning to April showers.
Fortunately, sunny days were happily on our seascape's horizon, ready to welcome another bright season by the sea…
Upcoming News
The 7th annual Hereford Inlet Lighthouse Maritime Festival takes place on June 18-19, 2016, celebrating South Jersey's rich maritime history with features artists, crafters, food, music, authors, historians, museums and tours of the historic Hereford Inlet Lighthouse. The Anglesea Marketplace, featuring arts, crafts, food, music and some commercial vendors will run along Central Ave. from Spruce to Walnut St., running from Chestnut to 1st Ave. will be the Anglesea Fine Arts and Crafts Show featuring a number of juried artists, crafters, photographers and jewelers. Adjacent to the Art show is a new Food Court , hosting a number of quality food purveyors serving up delicious Seafood, Mediterranean Fair, BBQ, and of course hot dogs and hamburgers along with all the standard sweet treats one expects at a summer Festival.
The Lighthouse courtyard and parking lot will be turned into a Living History area. The reenactment group, Bloody Historical will present a pirate encampment all weekend with live stage shows daily at 11. Joining the Pirates in the Living History section will be the Hebrew Hammer Blacksmith, young Daniel Lapidow, who will not only demonstrate, but teach his trade to those attending. Inside the Lighthouse Courtyard, a dozen or so local museums, lighthouses and historical groups will be on hand.
Live music will be provided by the bands Twelve Strings, Hofenakus and renowned South Jersey singer song writer Danny Eyer. To find out more, see their ad in this issue.
Looking for a fun way to spend a day, evening or a weekend at the end of June? Then you will want to check out the annual Italian-American Festival in North Wildwood June 24-26, 2016 . This annual event sponsored by the Knights of Columbus Lady of the Rosary council # 2572 turns the area on Old New Jersey Ave. into a real family event. Free entertainment starting Friday night with the procession with St. Anthony and the Grand Marshal this year is Channel 6 News Anchor Chad Pradelli. Charlie Gracie will be joining us as we help him celebrate his 80th birthday at the festival. Other entertainment includes BitterSweet Duo, Corner Boys, Tony Sacca and much more. Games and prizes for the kids make it a real family affair. Beer, wine lots of special Italian food, craft vendors, raffles …. are All for a good cause. Even though you come "down the shore" for the beach, you won't want to miss this fun summer event. Check out their ad in this issue for full details.
Conclusion
"When snow is still blowing against the window-pane in January and February and the wild winds are howling without, what pleasure it is to plan for summer that is to be." Writer Celia Thaxter
Oh, the summer that is soon to be! While snowflakes occasionally brightened our Spring scenery, summer was patiently waiting for its eventual turn. During those draftier days, plans for the Summer of 2016 were happily underway. We here at The Sun were naturally on the case of nature's sunniest season. With our To-Do List properly prepared, we anticipate getting wise at the Morey's Piers Annual Education Extravaganza before getting healthy at the Downtown Wildwood Farmer's Market (while leaving room for our one-of-a-kind Boardwalk treats, of course). The smart shoppers among us, meanwhile, are sure to find the most unique, handcrafted items at the Boardwalk Craft Shows. When not doing our part to bolster the economy, we know Boogie Board Races will fuel our competitive streak, surely sending us coasting straight into the Concert Under the Stars Series. We've brightened up at just the thought of Fireworks on the Beach, sure to inspire those natural abilities we're all set to display at the Wildwood Talent Showcase. The Downtown Wildwood FREE Movie Night naturally makes that overflowing list, offering us stars of the Hollywood variety.
Of course, until summer officially arrives, we're reminded of the wise words of artist/writer Kahlil Gibran, "Be like the flower. Turn your face to the sun."
Now, with the sand beneath our feet and the sun and stars alternately tucked above us, we offer a warm welcome back to our Sun readers and friends and a promise to keep you up-to-date on all of the shore news fit to print, and meant to be read beachside, all season long by the sea…
Compiled & Reported by Dorothy Kulisek, Meg Corcoran, and Al Alven