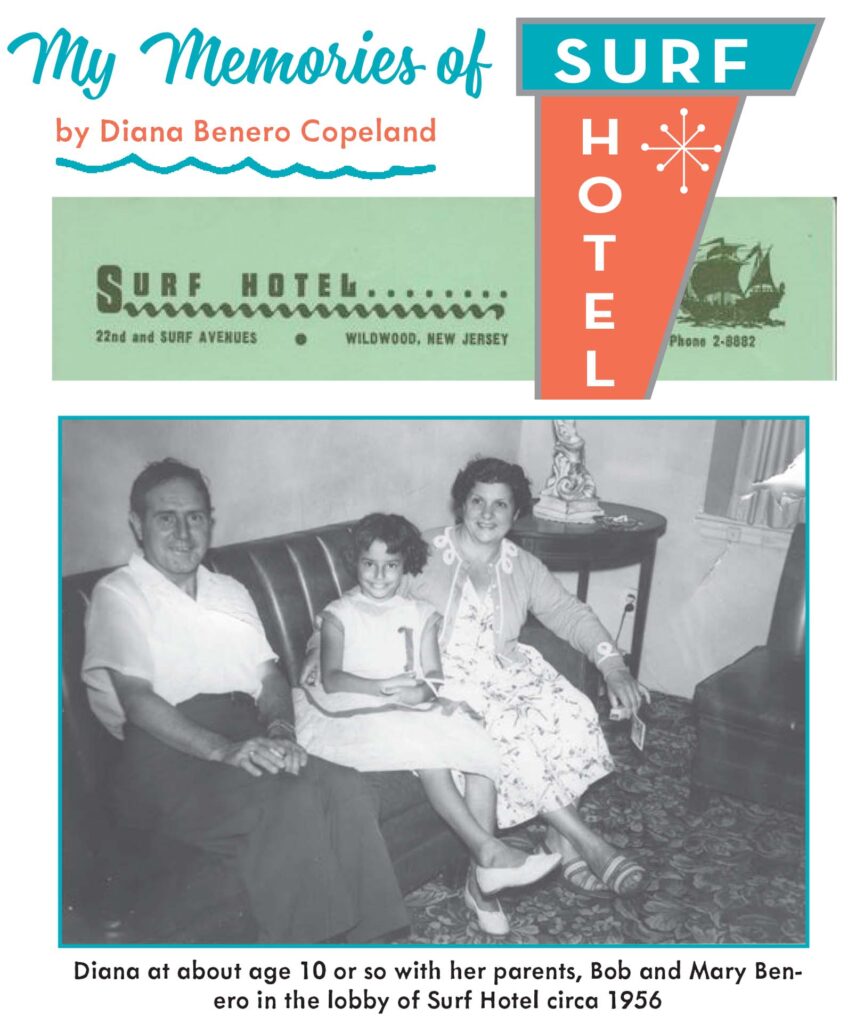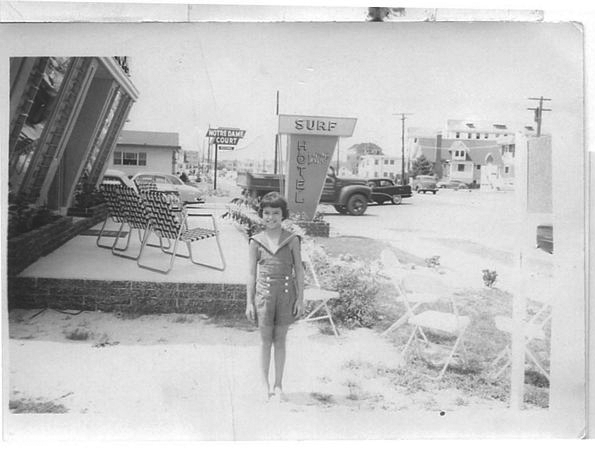 by Diana Benero Copeland in 2018
When I would tell my friends that I grew up in a hotel, they called me "Eloise" and told me of their visions of me sliding down hotel banisters. When I was young, I was quite precocious and went through many nannies hired to look after me while my mom ran the hotel. But the true story is that the hotel was actually built for me.
Built in 1948, it was the first Mom and Pop small hotel in North Wildwood (21 rooms), appropriately named The Surf Hotel, located at 22nd and Surf. For as long as I can remember, my parents told me it was built for me. They were older when they had me in 1946, their only child, and were used to traveling and staying in nice hotels. My parents continued that lifestyle but soon found out that children were not allowed at the hotels they had previously stayed in or in hotels they were hoping to stay in, and boarding houses were the only option for families. That really got to my Dad, no one was going to tell him where he could stay or not stay. He didn't like boarding houses and was not about to stay in one just because he now had a child. So, he said, "We'll build our own hotel where families are welcomed." That is just what they did.
They purchased a few lots on the west side Surf Ave. between 21st & 22nd, one for the hotel, one for the parking lot and one to prevent another hotel being built next to them.
I will never forget when dad, mom and I would drive to North Wildwood at the beginning of the season. The car would pass over the old rickety wooden bridge going clackity clackity and we would smell what I called the "clam smell," letting us know we were close—and then that long drive down Surf Ave inching closer to the hotel. In the early years, there wasn't much else around, so we could see it from a distance. My parents had to stop at Mr. Tannebaums, their attorney, to pick up the key. Finally, we got to the hotel and I would run all around. I was home! (like Eloise!)
I remember rainy days would be baking days for cookies and cakes. Since the hotel was seasonal, we didn't have heating or air conditioning, so in May when we went to get it ready for the season, there would be rainy, cool days, and my mom would use the oven to heat up our little kitchen. The hotel did have a landline phone and since we were the closest place to have a phone, our neighbors would ask if they could use it.
What I found interesting was how many motels had the wives operating them while the husbands worked their jobs back home, only coming down on the weekends. My dad worked at the Navy Yard and would drive down Friday nights for the weekend. My mom had a dress shop in Philadelphia but would close it for the summer to run the hotel.
Fast forward a few years in the early 50s when the hotel went through a remodel. I remember that being a big deal! The hotel was very boxy, designed after the then-current style of the much larger hotels but there was a style revolution happening with new Futuristic styles —known later in history as "DooWop" … So, gone was the flat front of the hotel with its little square windows and in its place was a set of very large floor-to-ceiling angled windows with jalousies on the sides with glass bricks around the front doors. It now had more of a Jetson look than before. Mom also put a pay phone in the lobby for the guests' convenience.
Our hotel was very family oriented with the same guests returning year after year. We would sit out on the front porch and talk with the guests and people-watch as clusters of families walked down 22nd to "the boards." Weekends were especially busy in Wildwood. Cars were buzzing up and down Surf Ave. on Friday and Saturday nights. The scene was even more special with the neon lights from all the motel signs that had sprung up around us. By this time, the Surf had its own futuristic neon sign out front. Across the street was The Grey Manor and one of my favorites, the Flame Inn, where the sign was a tall, flickering neon candle. Our hotel had no vacancies starting early on Fridays, but my Mom kept the neon 'vacancy' sign on. I didn't understand that until she explained it was her way of helping out the other motels that still had rooms. People appreciated that, too, so that they wouldn't have to keep driving around to find a room. A good life lesson for me.
I had good childhood "summer friends" like Mary Teresa (Tweetsie) Soens– she and her family spent the summer in a house on the beach block of 22nd, known as Undertakers Row. I think it was named that because the string of houses was owned by Mr. Kinney, (Mary Teresa's grandfather) an undertaker in Philadelphia. Those houses were two stories and a very funny, nice lady named Frances Starr lived on the top floor of the Soens. She would tell us the funniest jokes. Another good friend was Ava Maria Carpenter—she stayed with her grandparents for the summer at their house on 21st near Surf. Her grandfather's name was Rocky. He had a boat and would take us for rides out on the bay.
We all played kid games together and loved putting on plays. Tweetsie had brothers and boxer dogs. Another who would join in was Johnny Ryan, whose family had a lovely large white house right at the end of Surf Ave. before you got on the ramp to the boardwalk. I always thought the Ryans were really rich because they had a water sprinkler system for their lawn! Ava's parents owned a luncheonette at the end of 22nd. You could step off the beach and right onto the diner's property. I loved spending time there–spinning on the stools at the counter and listening to the jukebox. One of my favorite songs one summer was "You Belong to Me." These days, whenever I hear that song, it takes me right back.
When we got a little older, we were able to go on the boardwalk by ourselves and enjoy the rides, movies, skee ball and wheels of chance. I especially remember the caterpillar ride and the little cars that you drove on your own under the Flyer. I enjoyed the Jungleland ride but was afraid of the Mighty Mouse roller coaster. We loved the Fun House, but we girls always made sure to wear Bermuda shorts or clam diggers instead of skirts if we were going on that walk-through type ride. When you stepped on a floorboard, a blast of air would come up–well you get the idea.
On rainy days, we would head out to a matinee. I remember seeing "The Wizard of Oz" for the first time at the Regent Theater. I loved all the movie theaters in Wildwood.
On special occasions, meaning when my cousins would visit, we would go to Zaberers for dinner. It was such a bustling, exciting place! On some weekends, when my Dad was in town, we would go to Schumann's for ice cream sundaes. If you finished the whole thing, you would get a certificate. After Mass on Sundays, we would have breakfast at Groff's… Loved their black bottom pie. I loved Mack's pizza, Laura's Fudge and Douglass Candies… so glad they still have their iconic plaid rug and boxes. I remember how I would bike up to Larkin's to bring back some hoagies–they were the best… and getting ice cream sodas at the pharmacy luncheonette–the one that used to be on Pacific near Central Ave. Another favorite restaurant was "Pierre's" on the boardwalk around the corner from Groff's. The restaurant was so cute with its French theme. It had the best waffles.
When I became a teenager, I would go to Starlight Ballroom to dance –before or after getting a lime rickey, that is. Dick Clark was the DJ at Starlight. I started dancing on Bandstand in my freshman year of high school and soon became a regular on the show.
It wasn't always just fun and games growing up in a family business. When I was older, I took on assorted hotel responsibilities. I was the writer in the family, so my mom had me correspond with guests inquiring about reservations. I also greeted the guests, was the chambermaid in the early slow season and did my share of painting and other assorted little jobs around the hotel.
I am so grateful for the experiences I had. My parents built a hotel just for me because they wanted families to enjoy their vacations.
I visited the Boyer Museum a few summers ago and met a gentleman who had done PR for area musicians. He remembered my mom and the Surf Hotel and how she would put on big pots of pasta for the "starving musicians." He told me to go across the street to La Cucina and tell one of the musicians I was Mary Benero's daughter. I did just that and the musician had tears in his eyes. He remembered how gracious my mom was.
I am so thankful for the wonderful legacy of my parents and The Surf Hotel.
My parents sold the hotel in 1963. The new owners added a pool and renamed it the Seagull Apartments. It was torn down c. 1997 and replaced with condos. Fortunately, I could never replace the countless memories of my Wildwood summers.